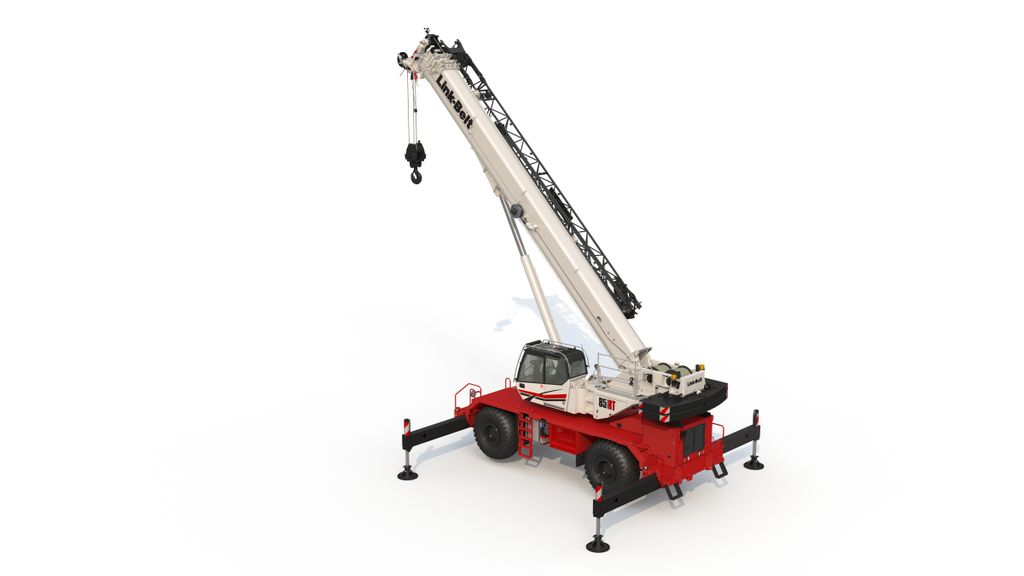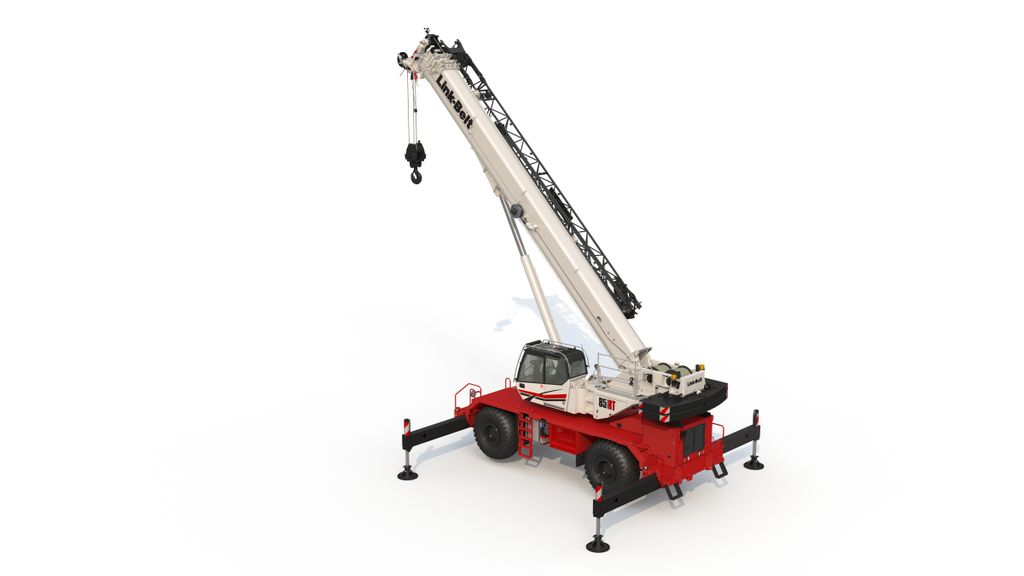 Publication description
DUE IN 1st QUARTER OF 2024
A six-speed transmission on the 85|RT is powered by a Cummins Tier 4F QSB 6.7 270 hp (201 kW) diesel engine. Matching main and auxiliary winches have 18,603 pounds of maximum line pull and a maximum winch speed of 485 fpm. The 85|RT includes new drive train and counterweight removal systems.
The new RT|85 also offers telematics in place to give real time data to better forecast maintenance and service needs of the crane, as well as iCraneTrax for better fleet management and maintenance scheduling.
The 85|RT comes with a full power, five-section formed boom 38 – 142-foot built to Link-Belt's specific boom profile and tolerances. An available two-piece Link-Belt patented SmartFly (35 - 58 feet) provides greater flexibility and range, and manually offsets at 0, 15, 30 and 45 degrees. SmartFly's one-person fly erection technology minimizes work at height with ground controls for fly assist and a hydraulic cylinder and ramp releases the fly and returns it to its stowed position. The crane also offers a 9.5-foot offset fly that reeves up to 4-parts of line and is capable of 25-tonlifts. The 9.5-foot fly is ideal for applications where two load lines are necessary for lifting one load such as precast panels.
Link-Belt's V-CALC (Variable Confined Area Lifting Capacities) system features virtually infinite outrigger configurations with real-time 360-degree charts. V-CALC has proven itself in general construction and infrastructure applications. Once outriggers are set, the user-friendly Pulse 2.0 system indicates the crane's available capacity.
Link-Belt's cab design for its rough terrain cranes has been well received in the field, both in terms of visibility, operator comfort and intuitive design, the company said. All electrical components coming into the cab are bulk headed for "plug and play" assembly. An ergonomic seat with electronic joystick/single axis controllers provide comfortable operator's station, and cab tilt of 20 degrees keep line of sight easy for any jobsite.
Link-Belt Site Vision includes a lights and cameras package built for extended workdays and cold weather conditions. Cameras on the 85|RT include heated rear-view, right side swing and winch cameras.
Year: 2024
Boom: 142'
Capacity: 85.00
Jib: 58'
Condition: New
Unit #: TBD
Serial #: TBD
Location: Lyon Charter Township Michigan USA
---
Location
Lyon Charter Township, Michigan, United States