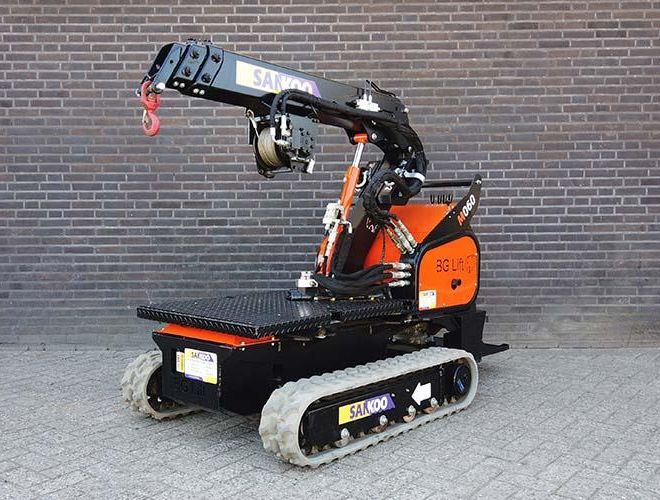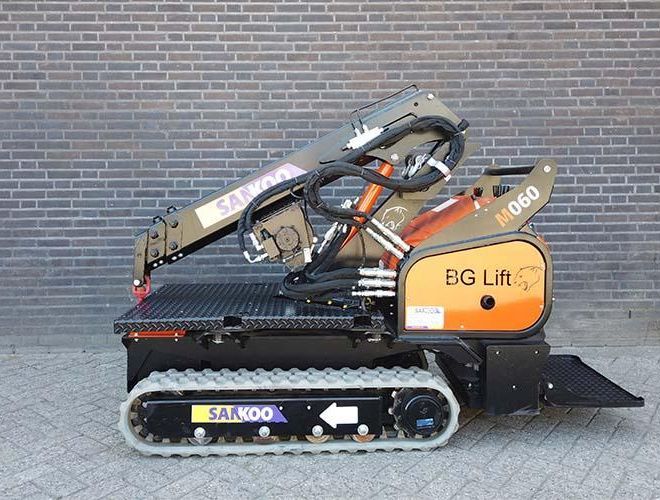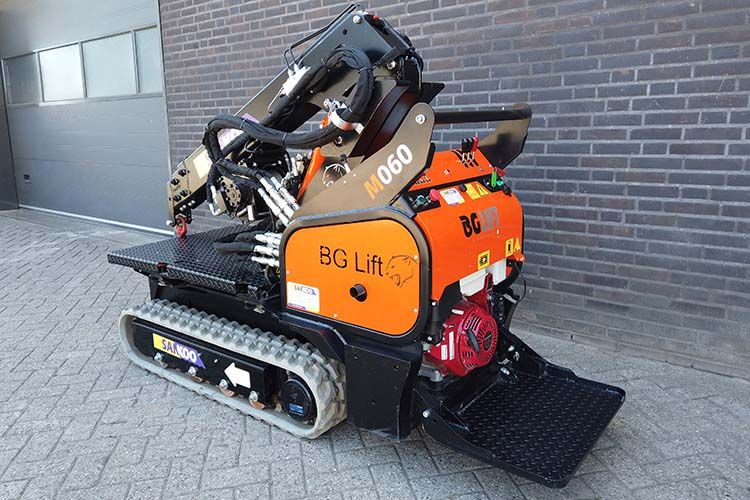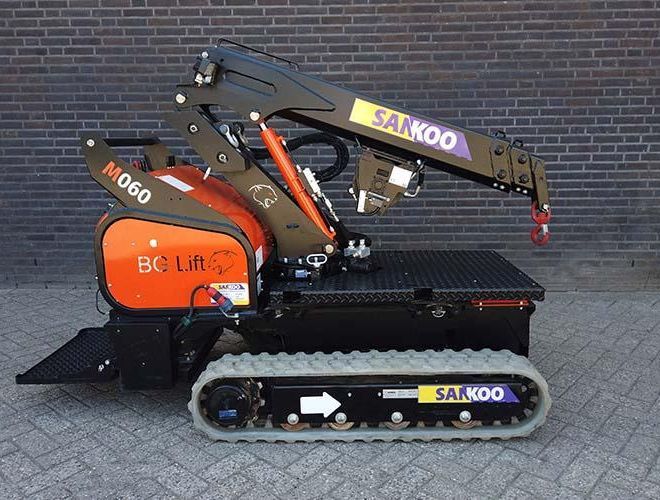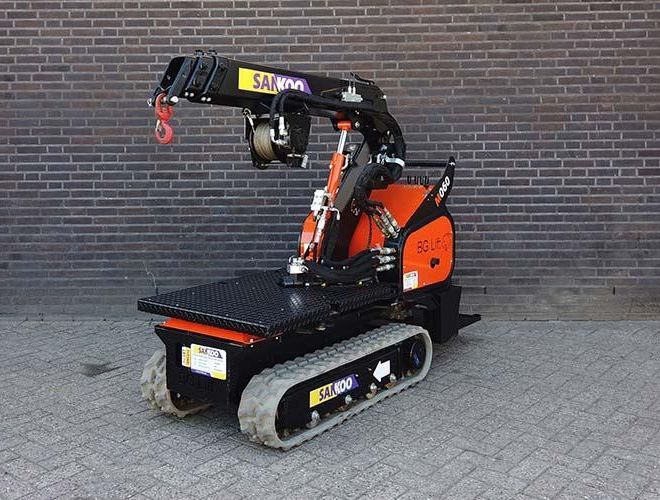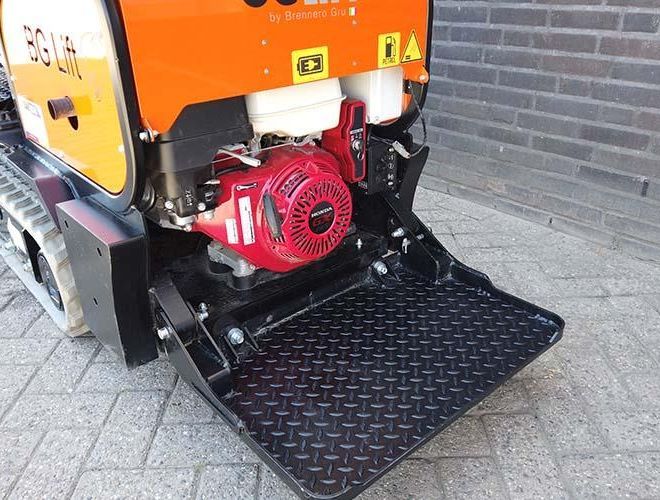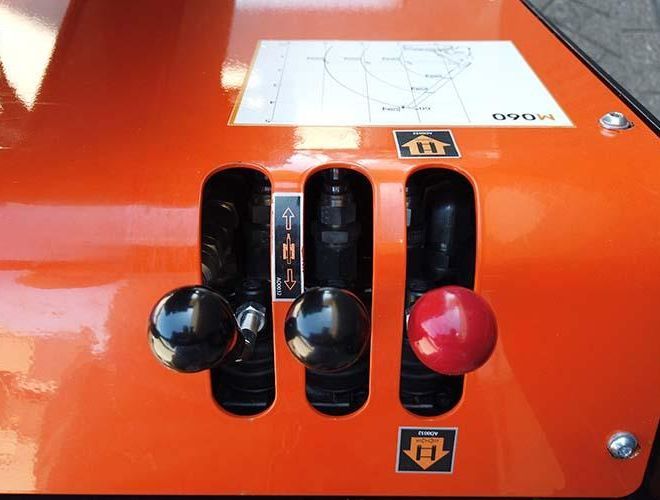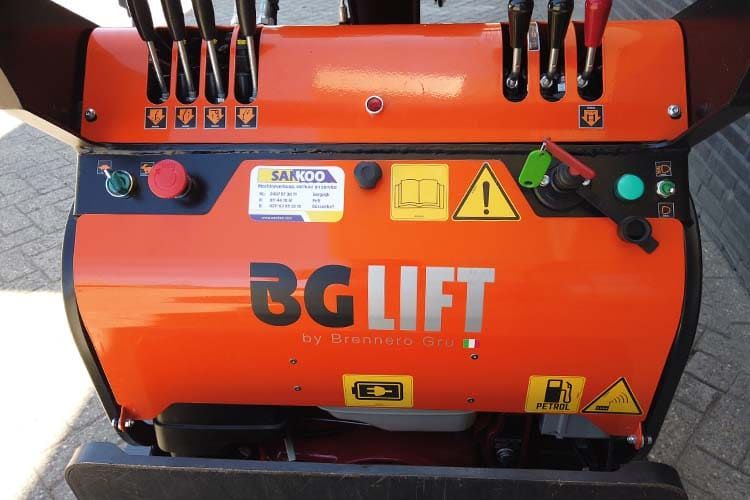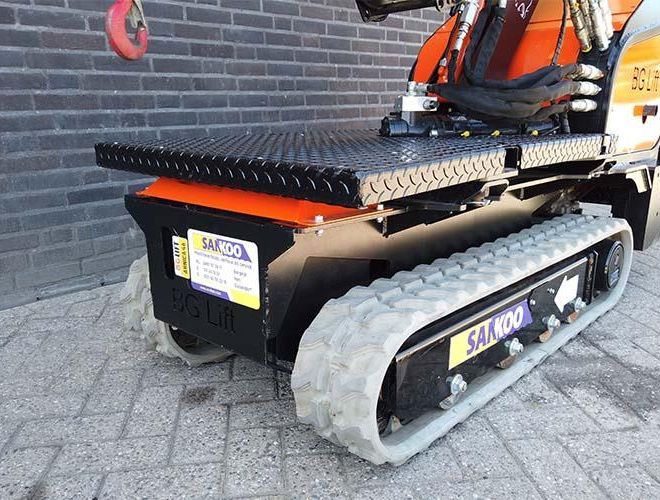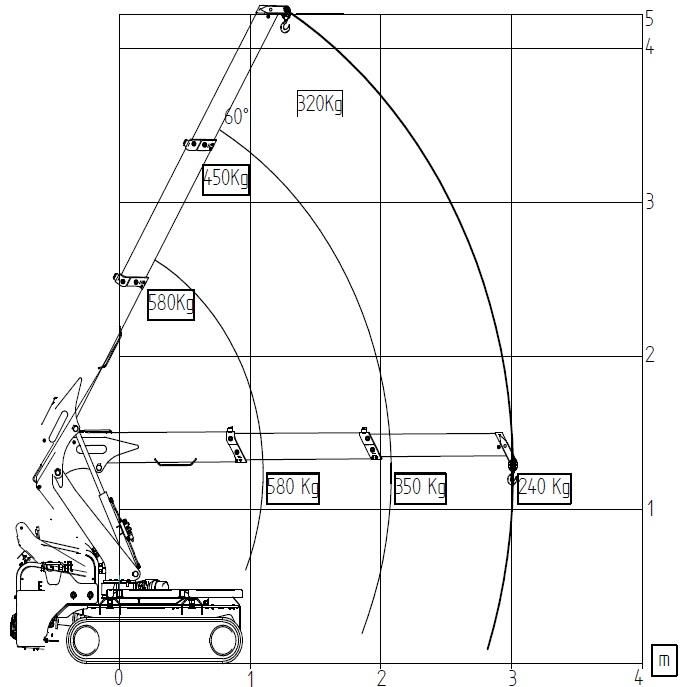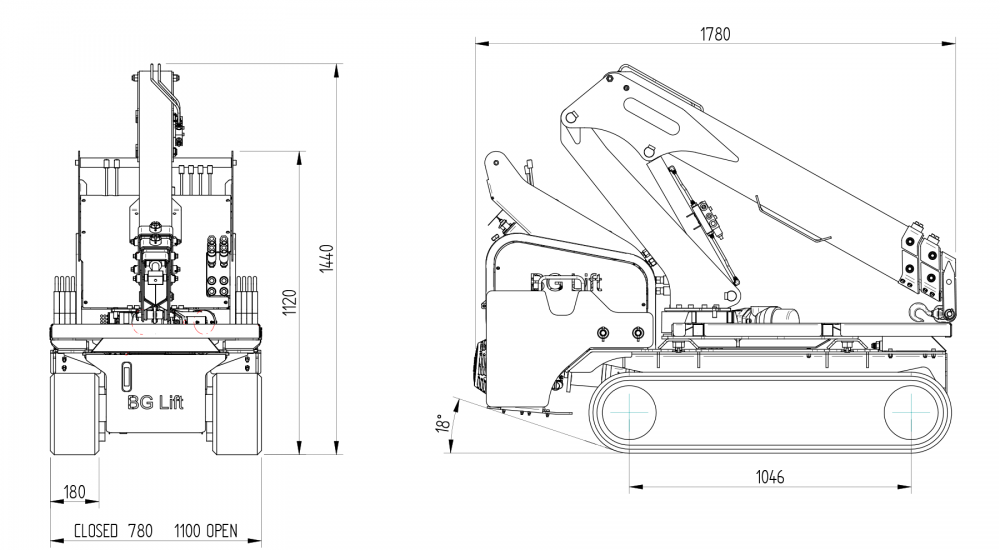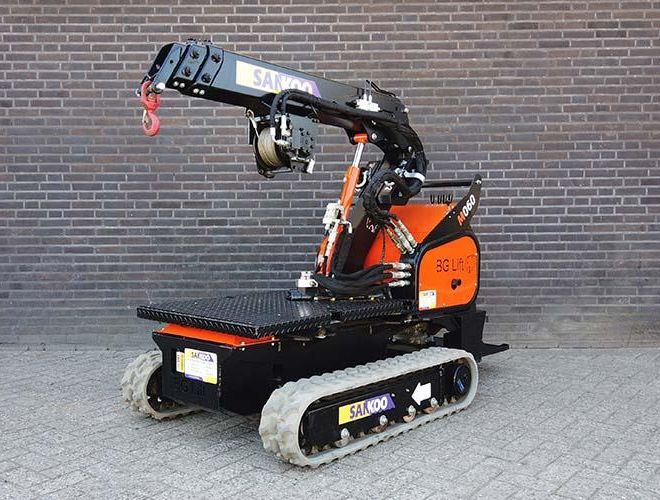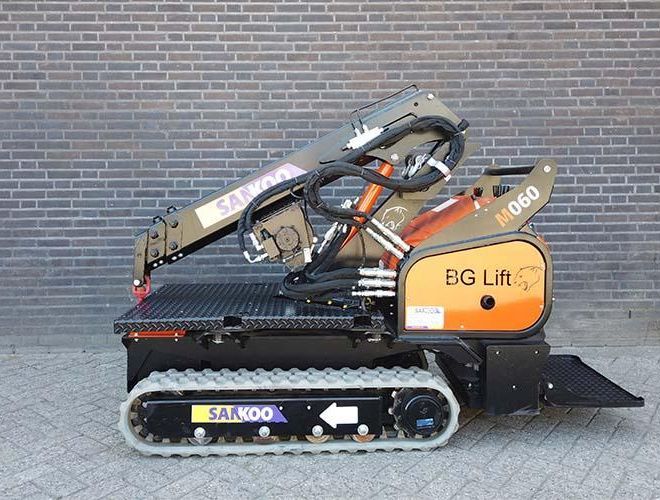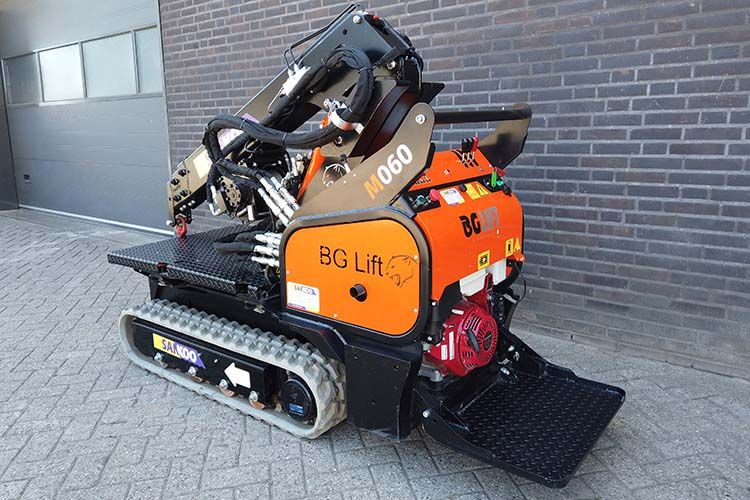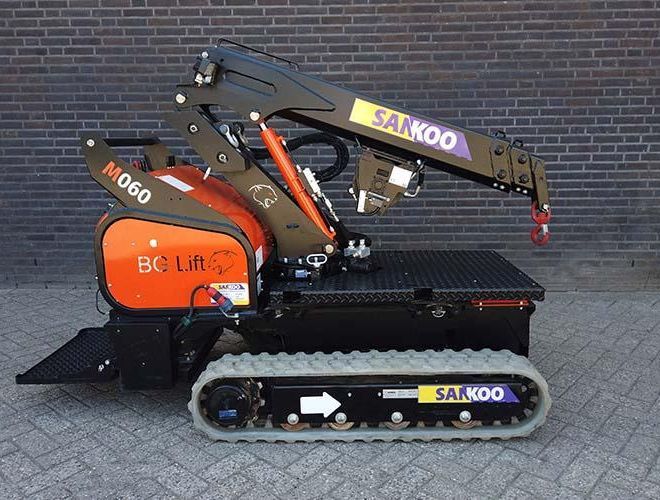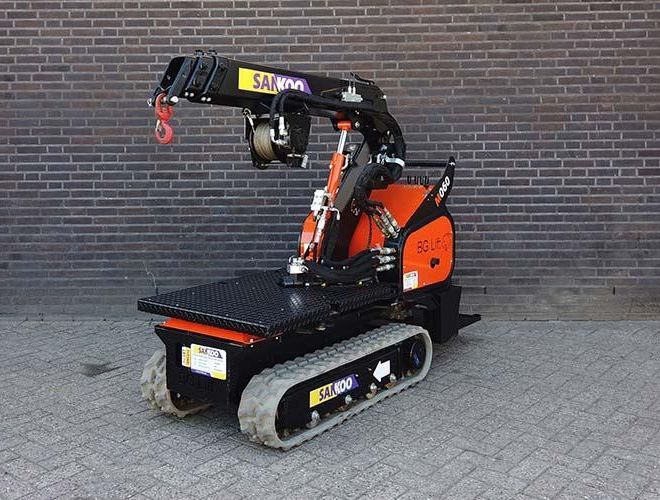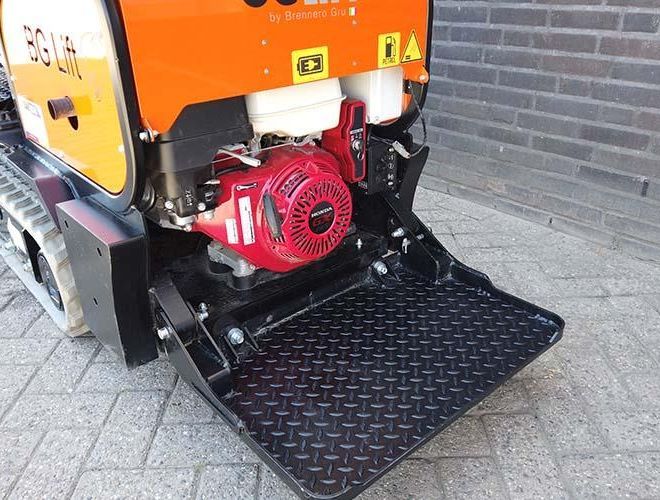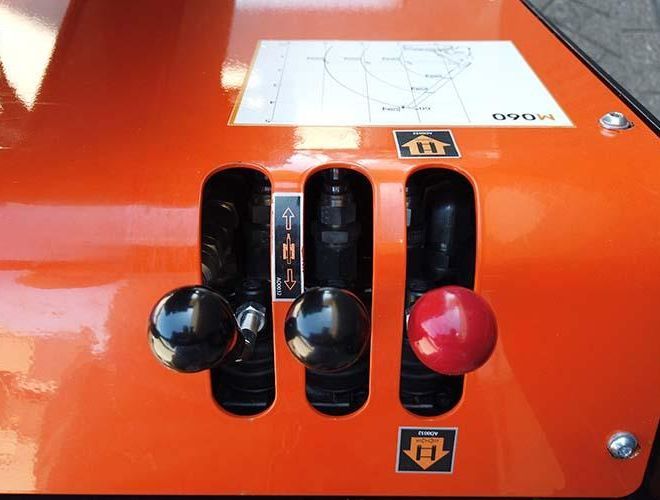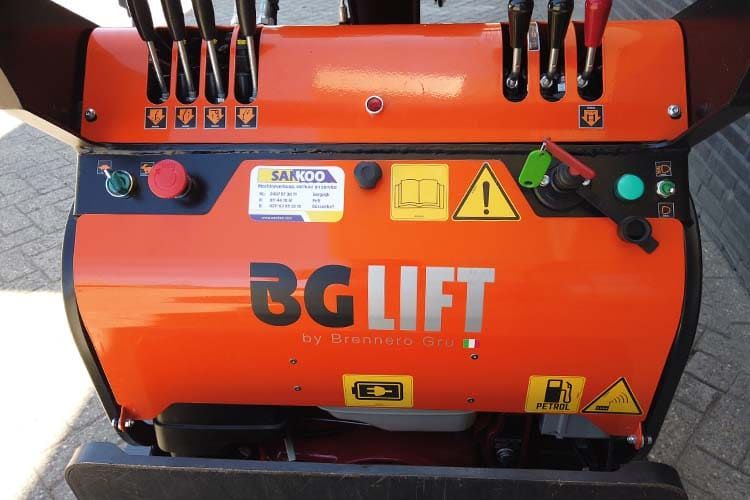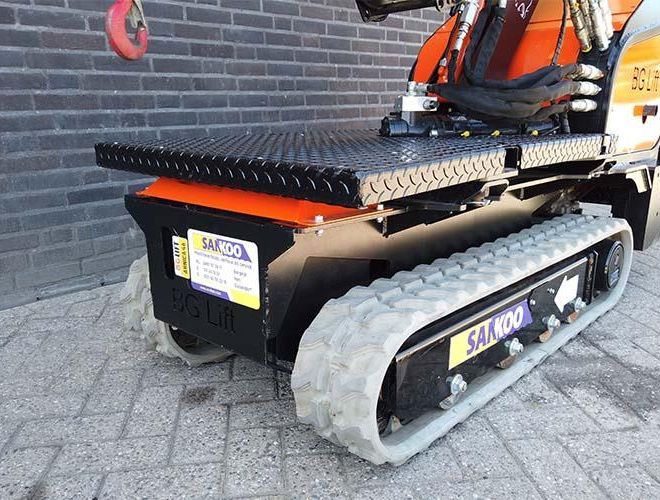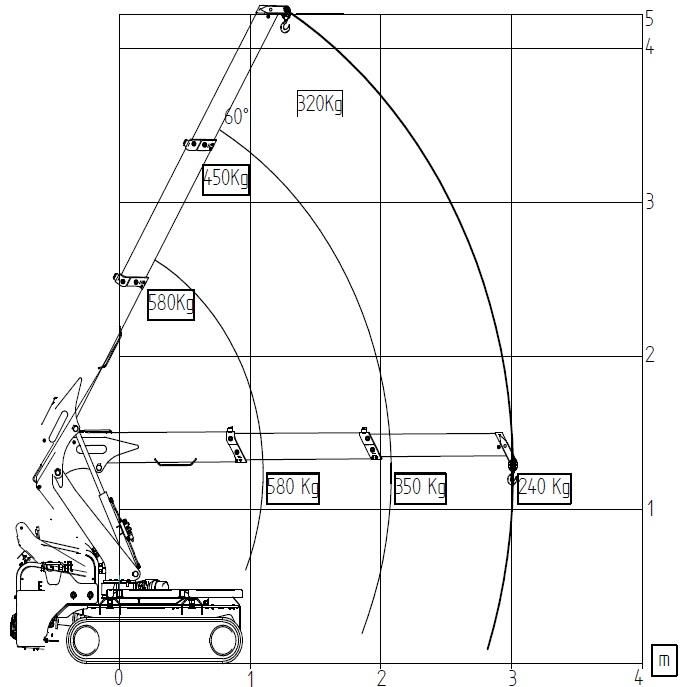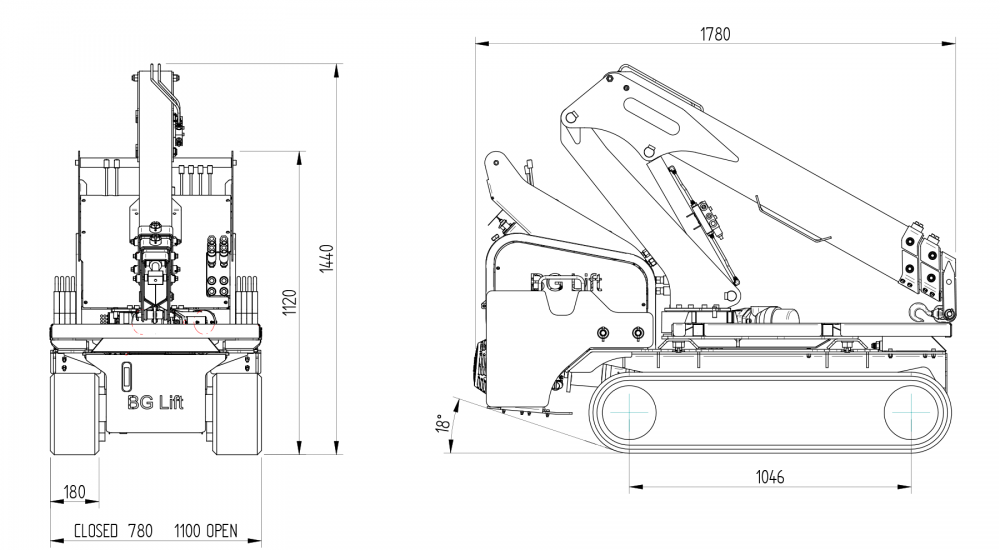 Mini cranes
M060 /Mini Crane / Crawler Crane / Compact Crane / Spider Crane
published 8 Mar 23
241views
---
---
---
---
Publication description
The BGlift M060 is a Pick and Carry crane on tracks, which is standard equipped with a Honda GX390 gasoline engine. The M060 has hydraulic extendable tracks which increase the stability. The M060 has a rotating ballast, so the weight of the crane is being minimalised. The 25 ° + 25 ° hydraulic slewing increases the possibility of precision work.
Specifications Sankoo BGlift M060
Motor : Honda gasoline engine 8,7 kW
Double pump : 150 bar
Transport width : 0,78 m
Transport length : 1,78 m
Transport height : 1,44 m
Transport speed : Ca. 2 km/u
Overload warning device : Electric
Max. capacity : 580 kg / 1,3 m
Total weight : 690 kg + 200 kg ballast
Max. hydr. slewing : 25° + 25°
The Sankoo Bglift is also for rental, with and without crane operator.
Sankoo is an innovative company which mechanize the heavy handwork. A part of our business is renting, selling and maintenance of compact building machinery. Sankoo has a high quality range of mini cranes (MHK, BGlift, Jekko, Unic and Maeda), Platforms (Cela, Bibi ad Platform Basket Spider), articulated telescopic loaders (Avant, Giant, Schaffer and Fuchs) and mini loaders (Caterpillar and Kubota) and glass suction units ( Righetti, Powergrip and Muyen). Our service comes with a fair and appropriate advice.
------------------------------------------------------------------------------------------------------------------------------------
De BGlift M060 is een rupsaangedreven Pick en Carry kraan met een Honda GX390 Benzinemotor. De kraan beschikt over hydraulisch verbreedbare rupsen waardoor de stabiliteit wordt verhoogd en er ook gewerkt kan worden op ongelijk terrein. Ook heeft de M060 een meedraaiende ballast zodat het eigen gewicht geminimaliseerd wordt. Het 25° + 25° zwenkbereik verhoogd de mogelijkheid tot precisiewerk.
Technische specificaties Sankoo BGlift M060
Motor : Honda Benzinemotor 8,7 kW
Dubbelpomp : 150 bar
Transportbreedte : 0,78 m
Transportlengte : 1,78 m
Transporthoogte : 1,44 m
Transportsnelheid : Ca. 2 km/u
Lastmomentbeveiliging : Elektrisch
Max. capaciteit : 580 kg / 1,3 m
Totaal gewicht : 690 kg + 200 kg ballast
Max. hydr. zwenkbereik : 25° + 25°
De Sankoo BGlift M060 wordt ook door ons verhuurd, met en zonder kraanmachinist.
Sankoo Machineverkoop, Verhuur en Service is een innovatief bedrijf dat haar hart heeft verpand aan de mechanisering van zwaar handwerk. De kerntaken bestaan uit het verkopen, verhuren en onderhouden van een kwalitatief hoogstaand aanbod van compacte bouwmachines. Het aanbod bestaat o.a. uit minihijskranen (MHK en BGlift), hoogwerkers (Cela, Bibi en Platform Basket), knikladers (Avant, Fuchs, Giant en Schaffer), minigravers (Caterpillar en Kubota), schrankladers (Skidster en Sherpa) en glaszuigers (Righetti, Powergrip , Viavac en Muyen). Daarnaast beschikt Sankoo over een aanbod van kunststof stempelplaten, aluminium oprijplanken/verlaadrails. Uiteraard wordt er bij onze service een eerlijk en passend advies geleverd.
---
Location
Loo, 3, Bergeijk, Noord-Brabant, Netherlands