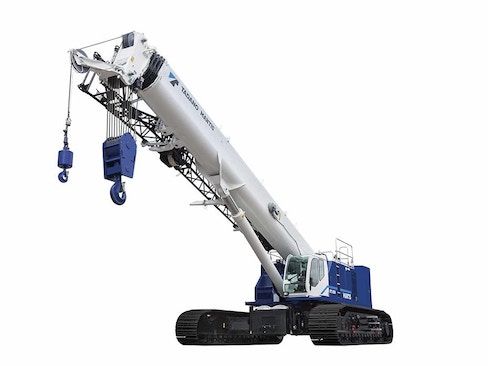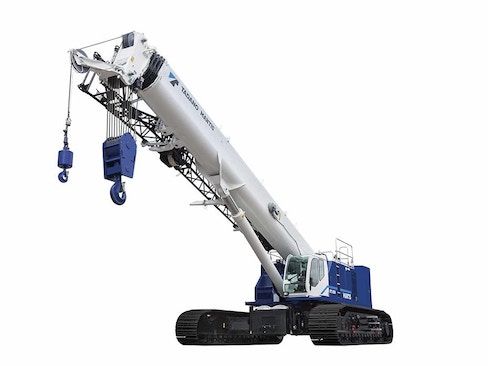 Publication description
The Mantis GTC-1300 by Tadano is a tele-boom crawler crane has a powerful, robust and versatile undercarriage with a smart and comprehensive access concept. The GTC series is optimized for transport. The base crane is transported to the site on a low-bed truck, the crane components separately on several standard trucks. This means that separate driving permits are not required in most cases.
The crane is easy to set up without the assistance of another crane, it sets itself up with highly efficient self-assembly, accelerated through the use of hydraulic or electrical quick couplings, optimally controlled via remote.
The Tadano GTC-1300 has a maximum lifting capacity of 120 metric tons (130 US tons). The max. boom length is 47.2 m (155 ft). The boom is a 5‑section full power telescoping boom with 2 extension modes. The swing is a gear motor driving a planetary gear reducer with a shaft-mounted pinion, external gear shear ball slew bearing bolted to the superstructure and the car body allows the superstructure to rotate 360°. Designed with OPTI-WIDTH, an asymmetric extension system, capabilities, allowing the operator to extend or retract the tracks with different configurations.
The frame is an all-steel, welded structure, precision machined to accept attachment of the boom and swing components. Equipped with a turbocharged Cummins QSL9 6 cylinder engine pushing 250 HP/2,100 RPM with a gas tank that holds 125 gallons. The main winch and auxiliary winch use a planetary geared two-speed winch that includes a hydraulic motor, multidisc internal brake, and counterbalance valve. A drum rotation indicator is included.
The operator's cab is a fully-enclosed, air-conditioned all-steel modular cab with a lockable sliding door, acoustical lining, anti-slip floor, and tinted safety glass. The cabin can tilt +20 degrees for a view when operating. Rearview cameras on the body and cameras on the boom are installed for better vision and lights can be used for dark/​harsh environments. You can also manage your fleet with HELLO-NET telematics.
EST HOURS (AS OF 01/20/2023): 826T
EQT #: TCC130105
---
Location
Houston, Texas, United States