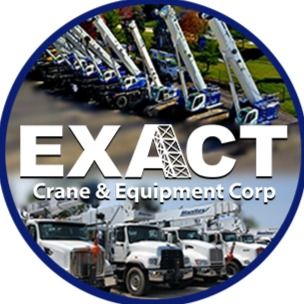 Exact Crane & Equipment Corp
---
About us
Solon, Ohio, United States
Jack Swan / Jeff Swan / Ben Herman (Sales • Parts • Service • Rent • Finance )
+888-635-5636
becca@exactcrane.com
𝚃𝚁𝙰𝙽𝚂𝙿𝙾𝚁𝚃 • 𝚁𝙴𝙰𝙲𝙷 • 𝙼𝙰𝙸𝙽𝚃𝙴𝙽𝙰𝙽𝙲𝙴 The 𝐓𝐚𝐝𝐚𝐧𝐨 𝐀𝐂𝟓.𝟐𝟐𝟎𝐋-𝟏 is built compact with the ability to carry 1,322 lbs. of payload, while staying under a 13.2ton axle load limit. Boasting a tip height of 350' it provides one of the longest reach in its class. This 245 ton crane comes with a single Scania engine, which allows for lower travel costs & decreased maintenance expenses. Contact Exact Crane today for more information! ✅ We have financing & a team ready to help you decide what are the best options for you and your company. Contact our Finance team at (888)-701-4622 or visit exactcrane.com/finance 𝐄𝐱𝐚𝐜𝐭 𝐂𝐫𝐚𝐧𝐞 𝐢𝐬 𝐲𝐨𝐮𝐫 𝐓𝐚𝐝𝐚𝐧𝐨 𝐃𝐞𝐚𝐥𝐞𝐫 𝐟𝐨𝐫: 𝘖𝘏𝘐𝘖 🔹 𝘔𝘐𝘊𝘏𝘐𝘎𝘈𝘕 🔹 𝘒𝘌𝘕𝘛𝘜𝘊𝘒𝘠 🔹 𝘞. 𝘗𝘌𝘕𝘕𝘚𝘠𝘓𝘝𝘈𝘕𝘐𝘈 𝐂𝐎𝐍𝐓𝐀𝐂𝐓 𝐄𝐗𝐀𝐂𝐓 𝐂𝐑𝐀𝐍𝐄 ➪ 𝑬𝒙𝒂𝒄𝒕 𝑪𝒓𝒂𝒏𝒆 𝑺𝒂𝒍𝒆𝒔: Call: 440-349-1999 Email: sales@exactcrane.com
#ExactCrane
​
#TadanoCranes
#Tadano
#ATCranes
#CraneErection
#EngCivil
#Roadwork
#ContractLift
#PrecastConcrete
#Bridgework
#LiftingYourDreams
#MobileCrane
#BuildingAmerica
#Infrastructure
#Cranes
#HeavyCranelifts
#AllTerrainCranes
#CraneBuilding
#CranesInTheSky
#SteelErection
#Demag
#Scania
#WindEnergy
#CraneOp
#OneTadano
#EnergyCrane
#TakeACloserLookAtTadano
#CivilEng
#ConstructionCrane
---
Cyber Monday has extended its reach into a #𝕋𝕒𝕕𝕒𝕟𝕠𝕋𝕦𝕖𝕤𝕕𝕒𝕪 with the real deals showing off versatility, reliability and availability! What will your next project need? We have 15 to 160 ton RT's 𝙧𝙚𝙖𝙙𝙮 𝙛𝙤𝙧 𝙬𝙤𝙧𝙠. 𝐄𝐱𝐚𝐜𝐭 𝐂𝐫𝐚𝐧𝐞 𝐢𝐬 𝐲𝐨𝐮𝐫 𝐓𝐚𝐝𝐚𝐧𝐨 𝐃𝐞𝐚𝐥𝐞𝐫 𝐟𝐨𝐫: 𝘖𝘏𝘐𝘖 🔹 𝘔𝘐𝘊𝘏𝘐𝘎𝘈𝘕 🔹 𝘒𝘌𝘕𝘛𝘜𝘊𝘒𝘠 🔹 𝘞. 𝘗𝘌𝘕𝘕𝘚𝘠𝘓𝘝𝘈𝘕𝘐𝘈 𝐂𝐎𝐍𝐓𝐀𝐂𝐓 𝐄𝐗𝐀𝐂𝐓 𝐂𝐑𝐀𝐍𝐄 ➪ 𝑬𝒙𝒂𝒄𝒕 𝑪𝒓𝒂𝒏𝒆 𝑺𝒂𝒍𝒆𝒔: Call: 440-349-1999 Email: sales@exactcrane.com ➪ 𝑭𝒊𝒏𝒂𝒏𝒄𝒆 𝑶𝒑𝒕𝒊𝒐𝒏𝒔: Apply today at ExactCrane.com/Finance
#ExactCrane
​
#TadanoCranes
#Tadano
#ATCranes
#CraneErection
#EngCivil
#Roadwork
#ContractLift
#PrecastConcrete
#Bridgework
#LiftingYourDreams
#MobileCrane
#HeavyHaul
#Infrastructure
#Cranes
#HeavyCranelifts
#AllTerrainCranes
#CraneBuilding
#CranesInTheSky
#SteelErection
#Demag
#CraneLove
#RoughTerrain
#CraneOp
#Mantis
#EnergyCrane
#TakeACloserLookAtTadano
#CrawlerCranes
#ConstructionCrane
---
This Thanksgiving 🦃 we are truly grateful for our customers continued trust & support, employees whose dedication & hard work are the backbone of our success and partnering with manufacturers that offer best-in-class quality products! We wish you and yours a wonderful holiday. Happy Thanksgiving from everyone here at Exact Crane.
---
🎉 'Tis the reason for the season.. It's time for the TCIA Tree Show! 🌲 Exact Crane will be exhibiting a NEW 40 TON Boom Truck mounted on a NEW Kenworth T880 and is available for purchase at the show. **STAY TUNED FOR GIVEAWAYS AT THE SHOW** ⇨ Visit us at the Manitex Booth: 409
#ExactCrane
#BoomTruck
#Manitex
#Arborist
#TreeService
#TreeEquipment
#UtilityEquipment
#TCIA
#Kenworth
#TCIAExp22
#TreeCare
#OwnerOp
#ManitexCrane
#KenworthTrucks
#TreeLife
#Cranes
#Roofing
#TrussWork
#SettingTrusses
#TreeWork
#Cranes4Sale
---
Thank you to those who serve and have served in our military. We honor your sacrifice, service and thank you for our freedom. 
---
𝘚𝘩𝘶𝘵𝘵𝘭𝘦 𝘪𝘯𝘵𝘰 𝘴𝘶𝘤𝘤𝘦𝘴𝘴 with a 𝐂𝐨𝐦𝐩𝐚𝐜𝐭 / 𝐕𝐞𝐫𝐬𝐚𝐭𝐢𝐥𝐞 / 𝐂𝐚𝐫𝐫𝐲 𝐃𝐞𝐜𝐤 𝐂𝐫𝐚𝐧𝐞. Multiple industrial cranes are now available from 9 to 15 tons. 𝘛𝘩𝘪𝘳𝘥 𝘱𝘢𝘳𝘵𝘺 𝘤𝘦𝘳𝘵𝘪𝘧𝘪𝘦𝘥, 𝘴𝘦𝘳𝘷𝘪𝘤𝘦𝘥 and 𝘳𝘦𝘢𝘥𝘺 to carry that next project! Exact Crane Sales Team: ➡️ 888-635-5636 ➡️ sales@exactcrane.com
#ExactCrane
#Shuttlelift
#LiftingEquipment
#CarryDeckCranes
#UtilityEquipment
#ManitexCrane
#OwnerOp
#Industry
#LiftPlan
#Cranes4Sale
#PlantCrane
#CraneConstruction
#MobileCrane
#YardCrane
#PickAndCarryCrane
#OhioConstruction
#HVAC
#MiniCranes
#Manitowoc
#ManitowocCranes
#Cranes
#CarryDeck
#Shuttleliftcrane
#Millwright
#IndustrialCranes
#ConstructionCompany
#ConstructionEquipment
#MaterialHandling
---
This 𝗧𝗖𝟱𝟬𝟭𝟮𝟴𝗫 made a quick appearance this
#ManitexDay
before ghosting 👻 us for a new home! As we wrap up this year, remember to utilize your 𝘴𝘦𝘤𝘵𝘪𝘰𝘯①⑦⑨ savings & order a boom truck to meet the Exact needs your jobs require. As 𝗬𝗢𝗨𝗥 𝗠𝗮𝗻𝗶𝘁𝗲𝘅 𝗱𝗲𝗮𝗹𝗲𝗿 we can provide you w/options to set you up for success in the new year! ✅ CAPACITY of 30-85 ton ✅ RANGE of features (cab, swing, reach & more) ✅ CHASSIS: Kenworth or Peterbilt ✅ ENGINES: Paccar or Cummins ✅ TRANSMISSION: automatic or manual ✅ AXLES: Tandem, Tridem with push/tag axles ✅ INTERIORS: basic or lavish Call: 440-349-1999 Email: sales@exactcrane.com 𝑵𝒆𝒘 & 𝑼𝒔𝒆𝒅 𝑪𝒓𝒂𝒏𝒆 𝑺𝒂𝒍𝒆𝒔 / 𝑺𝒆𝒓𝒗𝒊𝒄𝒆 / 𝑷𝒂𝒓𝒕𝒔 🄵🄸🄽🄰🄽🄲🄸🄽🄶 Available at ExactCrane.com/Finance
#ExactCrane
#Manitex
#50ton
#ManitexCrane
#PeterbiltTrucks
#BuildingMaterials
#HeavyHaul
#Cranes
#LineLife
#OwnerOp
#Roadwork
#LiftingSolutions
#BoomTruck
#CraneLife
#TruckCranes
#TreeEquipment
#UtilityEquipment
#ForestryEquipment
#Cranes4Sale
#ManitexBoomTruck
#TreeRemoval
#Peterbilt
#TreeCareIndustry
#Cranes
#CraneOp
#BoomTruck
#Roofwork
#Contractor
#BuildingAmerica
---
✔️𝑺𝒆𝒓𝒗𝒊𝒄𝒆𝒅 ✔️3𝒓𝒅 𝑷𝒂𝒓𝒕𝒚 𝑪𝒆𝒓𝒕𝒊𝒇𝒊𝒆𝒅 ✔️𝑨𝒗𝒂𝒊𝒍𝒂𝒃𝒍𝒆 𝑰𝒎𝒎𝒆𝒅𝒊𝒂𝒕𝒆𝒍𝒚! 𝟐𝟎𝟎𝟐 𝐓𝐞𝐫𝐞𝐱 𝐇𝐂𝟐𝟕𝟓 ⇢ 275' Boom (92") ⇢ 60' #30 Jib ⇢ 2 Drums w/free fall ⇢ block & ball ⇢ 18K hours 𝐏𝐑𝐈𝐂𝐄 𝐅𝐎𝐁 𝐒𝐎𝐋𝐎𝐍, 𝐎𝐇𝐈𝐎: $𝟒𝟐𝟓,𝟎𝟎𝟎 Contact Exact Crane Sales Team: Phone: 440-349-1999 Email: sales@exactcrane.com Financing available now at: www.ExactCrane/finance.com
#ExactCrane
#CrawlerCrane
#Terex
#Crane
#Gruas
#Industry
#HeavyIron
#HeavyLift
#CraneLife
#TerexCranes
#Earthwork
#CranesAtWork
#CraneWork
#BridgeBuilders
#CraneOperator
#CraneLifting
#ConstructionCranes
#Bridgework
#Cranage
#CranesAreAwesome
#ConstructionManagement
#Constructora
#LatticeBoom
#ChasingCranes
#SteelErection
#PileDriving
#BuildingAmerica
---
Spread that web 🕸 into new territory & get the Exact Crawler🕷 ready to creep into the toughest of terrains! 𝐍𝐄𝐖 & 𝐔𝐒𝐄𝐃 𝐂𝐑𝐀𝐍𝐄𝐒 • Regularly Serviced • 3rd Party Certifications • Competitive Pricing (and Financing!) • Purchase & Bare Rent Options 𝐂𝐚𝐥𝐥 440-349-1999 𝐄𝐦𝐚𝐢𝐥 sales@exactcrane.com
#ExactCrane
#Crane
#RTCrane
#RoughTerrainCrane
#CraneParts
#Cranes4Sale
#CraneLife
#TadanoAmerica
#Heavyequipment
#Industry
#ConstructionEquipment
#MobileCranes
#OneTadano
#TadanoCranes
#Tadano
#ContractLift
#TakeACloserLookAtTadano
#TadanoCranes
#Precast
#SteelErection
#Precastconcrete
#Bridgework
#CraneLove
#Roadwork
#ContractLifting
#Mobilecranehire
#Heavyhaul
---
We have 2️⃣ 𝑻𝒂𝒅𝒂𝒏𝒐 𝑻𝒆𝒍𝒆𝒄𝒓𝒂𝒘𝒍𝒆𝒓𝒔 on
#TadanoTuesday
! These 50 ton cranes are built w/𝟭𝟭𝟰 feet of boom, a 𝟱𝟬 foot jib (that offsets at 3 positions) and gives a max lift height of ①⑥① feet! Equipped w/Tadano's Opti-Width Technology, Smart Chart & HELLO-NET Telematics, these cranes are built for heavy lifting in tight areas. Give our sales team a call for more information or schedule a demo today! ☎️ 𝑪𝒂𝒍𝒍 440-349-1999 𝒐𝒓 𝒕𝒐𝒍𝒍 𝒇𝒓𝒆𝒆 888-635-5636 📧 𝑬𝒎𝒂𝒊𝒍 sales@exactcrane.com ➡️ 𝑬𝒙𝒂𝒄𝒕 𝑪𝒓𝒂𝒏𝒆 𝒊𝒔 𝒕𝒉𝒆 𝑷𝒓𝒐𝒖𝒅 𝑻𝒂𝒅𝒂𝒏𝒐 𝑫𝒆𝒂𝒍𝒆𝒓 𝒇𝒐𝒓: 𝐎𝐇𝐈𝐎 - 𝐌𝐈𝐂𝐇𝐈𝐆𝐀𝐍 - 𝐊𝐄𝐍𝐓𝐔𝐂𝐊𝐘 - 𝐖. 𝐏𝐄𝐍𝐍𝐒𝐘𝐋𝐕𝐀𝐍𝐈𝐀 ⇨ Bare Rent / Purchase Options ⇨ Schedule In-Person demo's ⇨ Exact Crane Finance Options
#ExactCrane
#Crane
#Telecrawler
#CrawlerCrane
#CraneParts
#Cranes4Sale
#CraneLife
#TadanoAmerica
#Heavyequipment
#Industry
#ConstructionEquipment
#CrawlerCranes
#OneTadano
#TadanoCranes
#Tadano
#ContractLift
#TakeACloserLookAtTadano
#TadanoCranes
#Utilitywork
#SteelErection
#Lineman
#Bridgework
#Heavyhaul
#Roadwork
#ContractLifting
#Teleboom
#pilingrig
#bargecrane
#pileworks
---