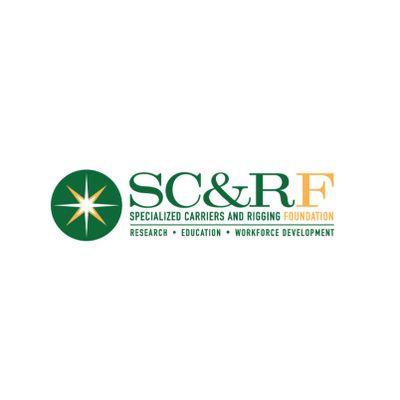 Specialized Carriers & Rigging Foundation
---
About us
Trinity Parkway, 5870, Centreville, Virginia, United States
+17036980291
jroskos@scranet.org
Are you working in the crane and rigging or os/ow industry? Come join the SC&RA Workforce Ambassadors and make your mark on the industry! Every quarter, ambassadors report on activities like classroom visits, career fairs, and apprenticeships or internships. Raising industry awareness through community engagement is a critical piece to recruiting that SC&RA member companies are integrating to round out their workforce development efforts. At the end of 2023, top performers from each of the four categories will be recognized. Companies are categorized by employee size: 1-15 16-75 76-150 151+ Get started now and become one of the top Workforce Ambassadors for 2024! Visit
https://scr-foundation.org/workforce-development-2/
to join! Specialized Carriers & Rigging Association
---
Let's meet the goal of 150 respondents! The Research Committee set a goal of 150 respondents and is asking that all companies doing business in crane, rigging or specialized transport take 11 minutes to repsodn to the survey. Do you do business in both crane and rigging or other areas? That's okay! The survey is set-up so that you may skip any area that doesn't pertain to your business and only answer questions that are relevant to you. Plus - it's anonymous, and the data is not shared with members, committees or boards. This is the only report on workforce demographics for this specific industry. This is the data your workforce boards want to see, the information SC&RA needs to advocate on your behalf and the evidence to support your recruiting efforts. Complete the survey now at
https://www.surveymonkey.com/r/SS89MTC
---
Addressing Workforce challenges requires an understanding the demographics of the current workforce. The State of the Workforce Research report released in August 2023 details the wages, educational level, rate of turnover, reasons and more. As you speak to the next generation about the benefits of a career in this industry - arm yourself with the data that supports you! Order your free copy today -
https://scr-foundation.org/2021-workforce-study-state-of-the-industry/
And - consider participating in the survey as we plan for the 2024 State of the Workforce Study. The data collected is completely anonymous and will help to provide a complete analysis of data collected from 2021 to 2023 data.
#crane
#cranes
#workforcedevelopment
#rigging
#oversizeoverweight
#heavyhaul
#operators
#heavyequipment
#cranelife
#SCRF
#SCRA
---
As we celebrate October's Careers in Construction Month - consider what you can do to make a difference and raise awareness for this industry. The latest SC&RF research report released in August confirms what companies in the industry have been promoting - higher wages, no college required, and less turnover, indicating higher job satisfaction as compared to other industries or general construction. Interested in a copy of the report and how we obtained these industry stats? Help by completing the workforce survey for the next SC&RF 2024 State of the Workforce in Crane, Rigging and Specialized Transport.
https://www.surveymonkey.com/r/SS89MTC
Order your copy of the study here -
https://scr-foundation.org/2021-workforce-study-state-of-the-industry/
#CareersInConstruction
#crane
#cranes
#workforcedevelopment
#rigging
#oversizeoverweight
#heavyhaul
#operators
#heavyequipment
#cranelife
#SCRF
#SCRA
---
Announcing a Partner in Education Award! Join us in congratulating Emanuel Thornton of Clark Crane. Emanuel is the recipient of the Morrow Equipment Company Continuing Education Scholarship and will receive 100% tuition in addition to travel expenses for the Tower Crane Training course at Morrow's facility in Oregon. For more information on additional seats available and how to apply by the October 31 deadline - visit
https://scr-foundation.org/morrow-award/
---
The SC&RF (Specialized Carriers & Rigging Foundation) is awarding two recipients the Company Training (CT) Grant. Join us in congratulating Wilkerson Crane Rental who will receive $5,000 toward Goldhofer training for 5 individuals and Select Crane Rental who will receive $2,500 toward training for two individuals who will be attending Tadano Technician training for All-Terrain Cranes. The total allocation for 2023 is $20,000 and to date, $17,300 has been awarded in Company Training Grants. The award offers financial assistance to ease the burden on companies who are training multiple employees. If you have employees who need training or certification, such as, OSHA, mechanical, rigging or safety— you are encouraged to apply for a grant for financial assistance with the SC&RF. Applications are open to SC&RA member companies only as an exclusive benefit and are also intended for the training of 2+ employees. The training could include mechanics, welding, rigging, project management, software training (new systems), driver school or crane operator certification. Rolling selection and review occurs as applications are received and awards are selected until annual funds are depleted. Details and a link to the application is available at
https://scr-foundation.org/ct-grant/
---
Join our new Workforce Ambassadors- Are you part of the Solution??
---
Scrf We're excited to release our newest video in our Intern Vlog Series! Cameron Williams is a 20-year-old mechanic intern with Buckner Heavylift Cranes in North Carolina. Watch now to hear what he has learned on the job.
https://youtu.be/fqSt3qWpfxM?si=FoxRJYoJZmtESYOe
---
How do you measure up? Do you tell your friends and neighbors about the opportunities for compeitive wages in crane, rigging and specialized transport? Do you know what areas of the industry are seeing the most turnover and those that have relatively long tenure? Learn more about the State of the Workforce as you recruit and build retention programs. @specialized_carrier Order a free copy today.
https://scr-foundation.org/2021-workforce-study-state-of-the-industry/
---
Meet Gesler! He's one of the young employees receiving training due to the Company Training Grant that LR Wilson and Sons was awarded. There are still funds allocated for Company Training Grants if you have multiple employees who need to recertify, safety courses or training. Apply today at
https://www.emailmeform.com/builder/form/mBO7foVe6aDjc13d4
---