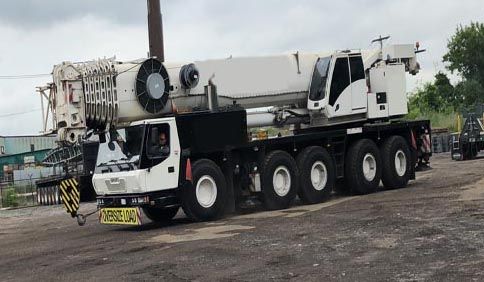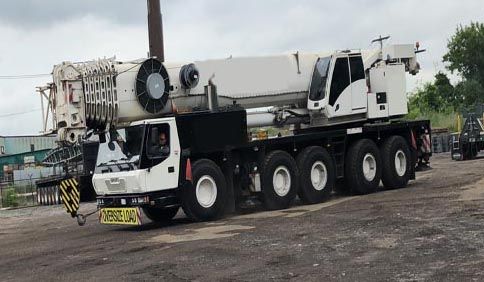 Descripción de la publicación
Year:
2007
Stock #:
18744
Tons/Lifting Capacity:
220
Main Boom/Boom Sections:
223'
Boom Extensions:
52'
Fixed Fly Jib/Swing Away:
69'
Counterweight / Ballast:
169,700
Gear Box / Transmission:
Allison
Axle / Drive:
10x8
Work Light:
yes
Warning Light:
yes
Airplane Light:
yes
Wind Gauge:
yes
Radio / CD Player:
yes
Spark Arrestor:
yes
Tackle / Tool Box:
yes
Others:
2007 GROVE GMK5220 250 US Ton (220 Metric Ton) All Terrain Crane With Following Working Spec: - 44ft to 223ft hydraulic boom with 1 base section and 6 telescopic sections, hydraulically extendable under load. - 39ft to 69ft double lattice hydraulic offset swing-away jib for mounting on telescopic boom at 0°-40° - 2 x 26ft lattice inserts for jib - Upper has Cummins QSB 6.7L 6-cylinder DSL engine (220HP) hour reads (inspect) hours - Lower has Cummins QSX 15L 6-Cylinder DSL engine (535HP) kilometer reads (inspect) and hours reads (inspect) - Allison automatic transmission 6-speed forwar 1-speed reverse - 2-speed transfer case - 77t (169,700 lbs) Full Counterweight - Big tires 20.5 R 25 - Drive 10 x 8. Performs crab functionality - (inspect)-sheaves hook block - 1-sheave hook block - Ball hook - Error free working EKS-5 - Air condition for carrier and crane cabin - Reverse drive alarm - Two working floodlights at pivot section - Please call for price.
---
Ubicación
United States