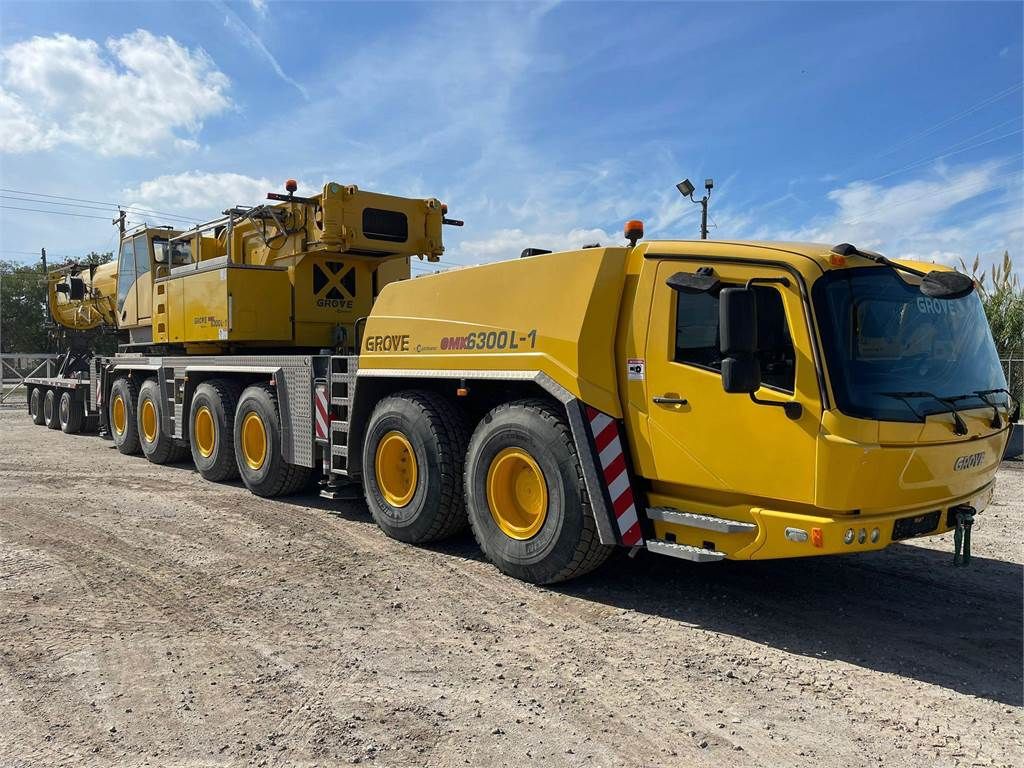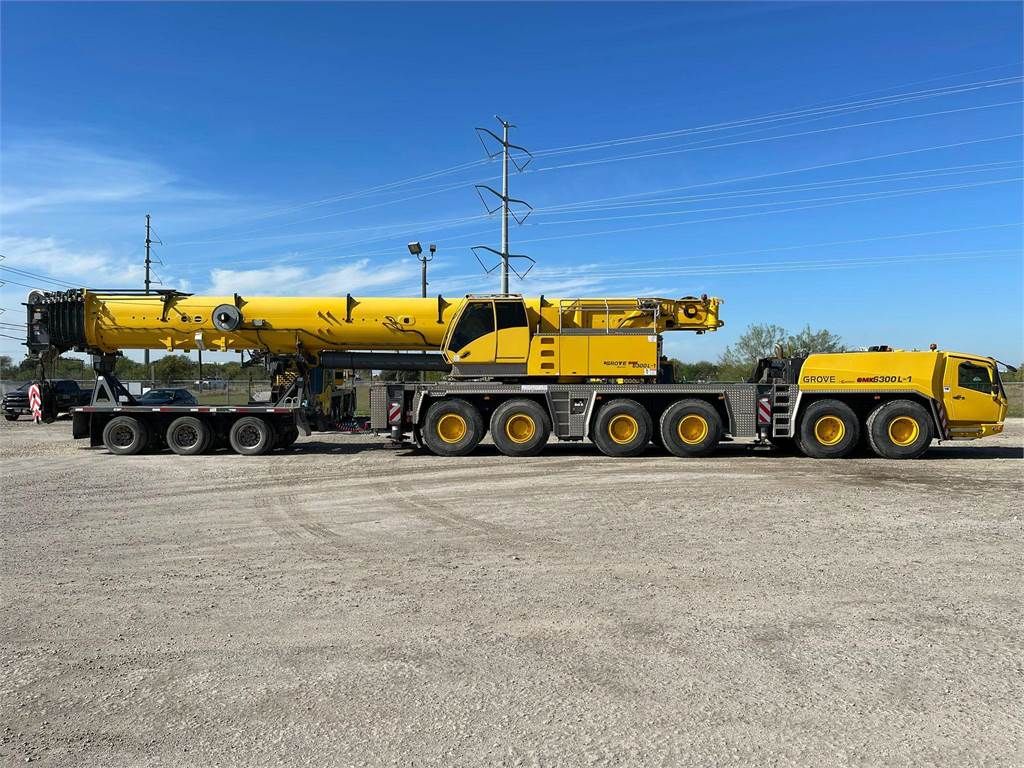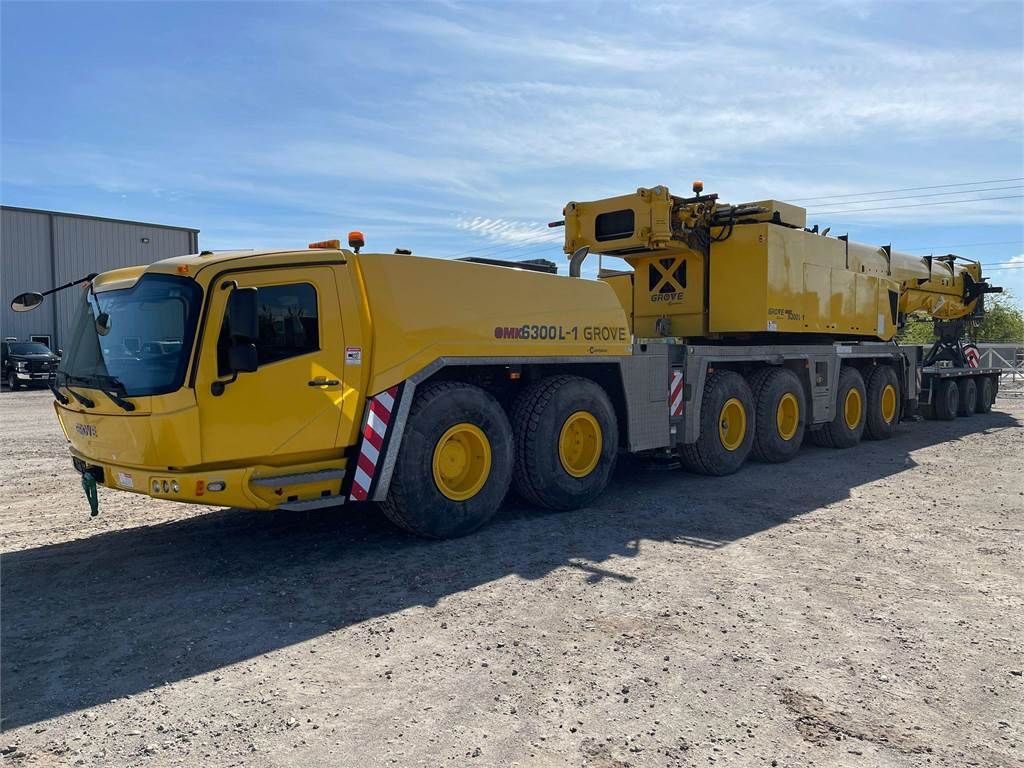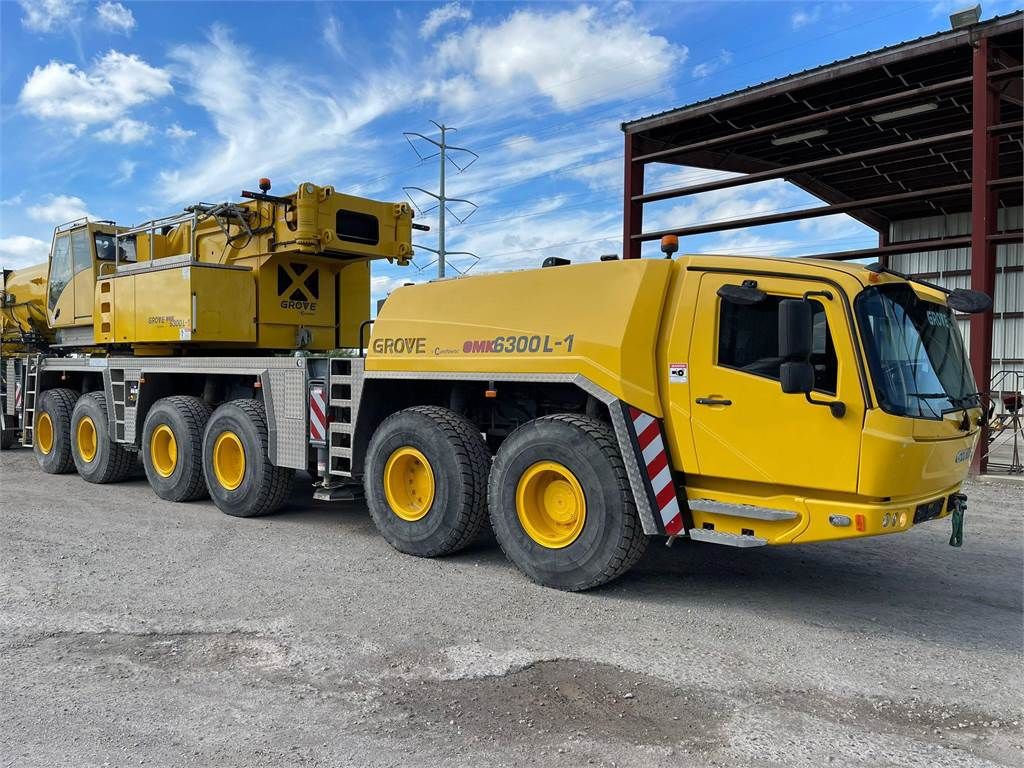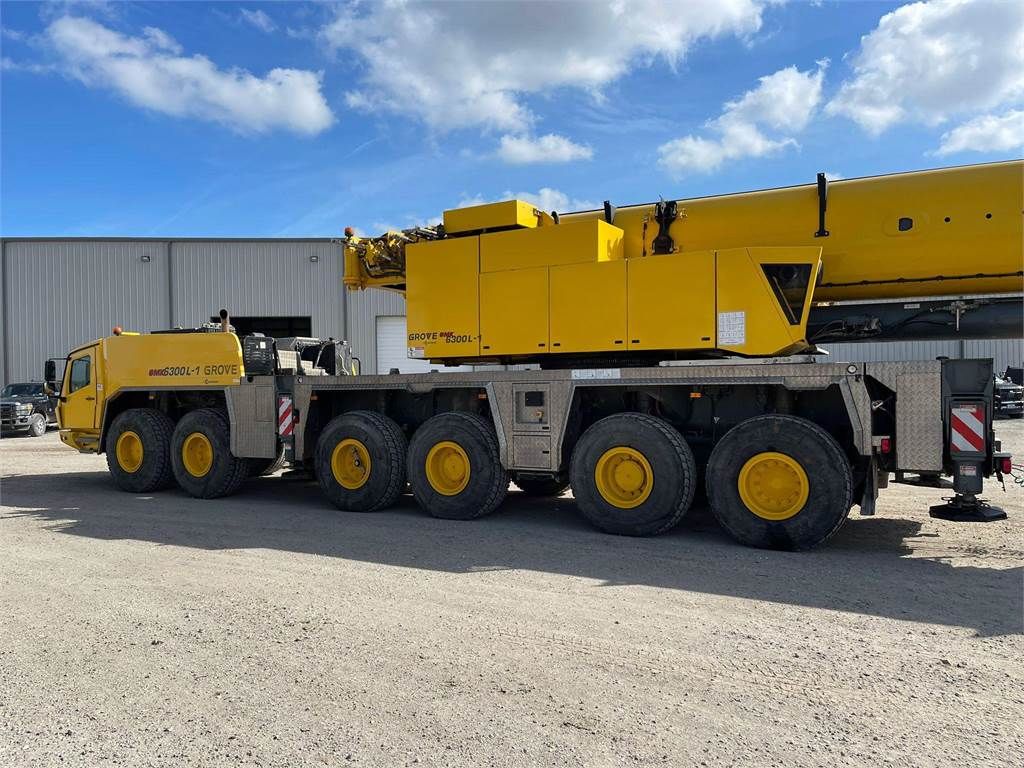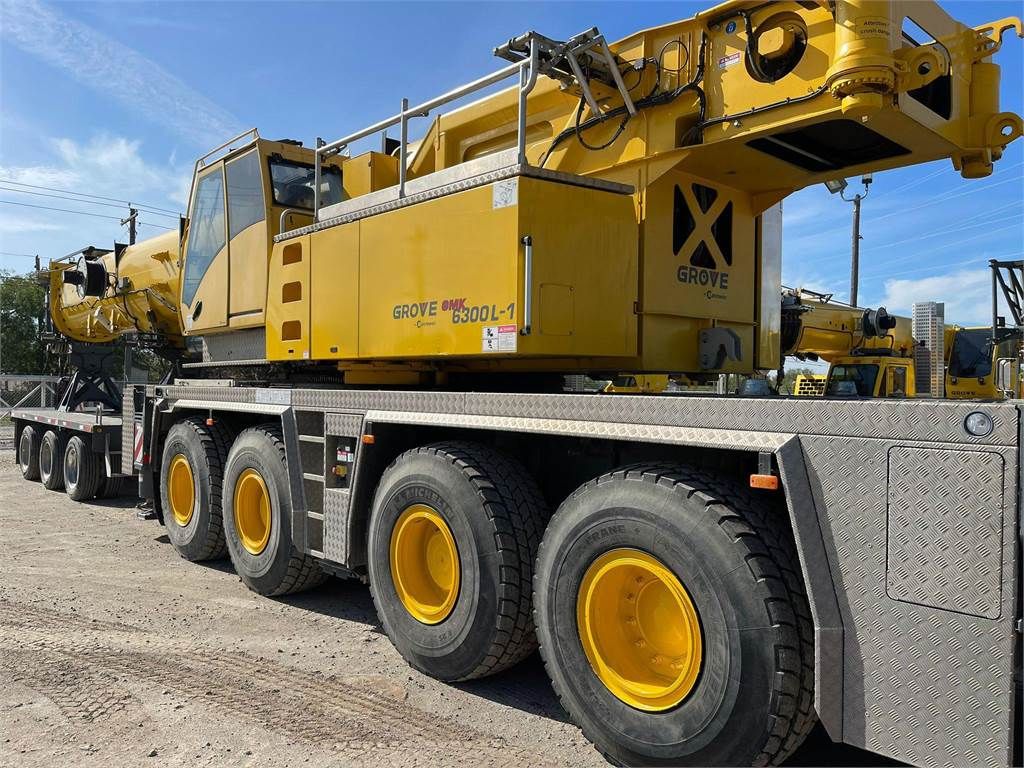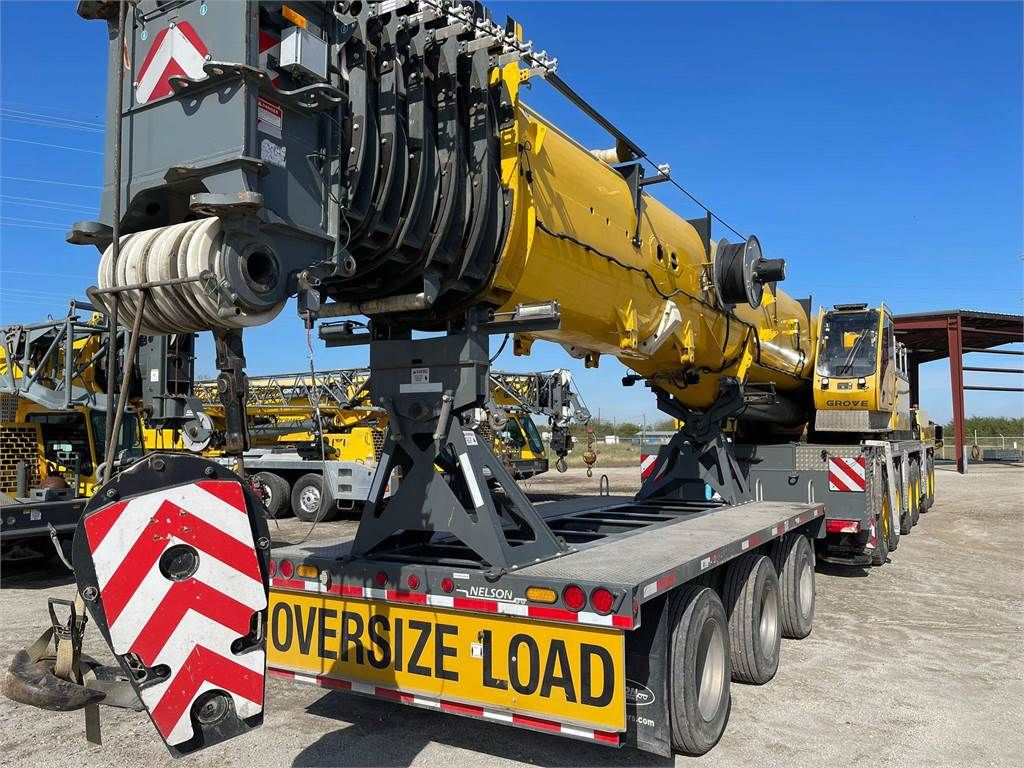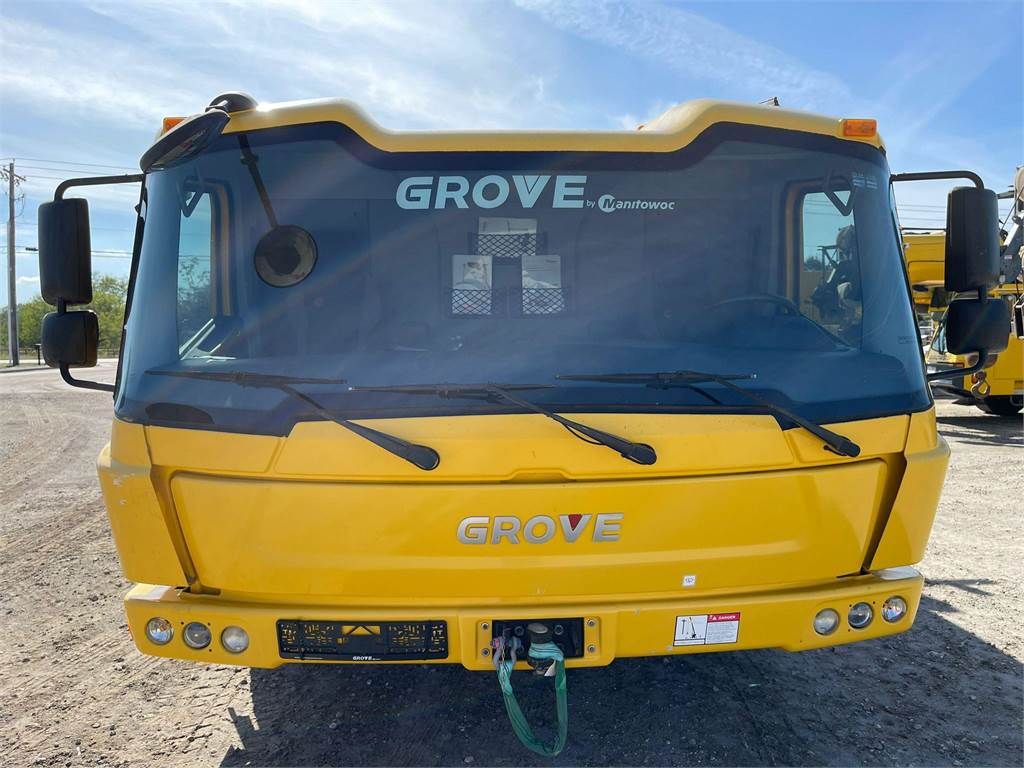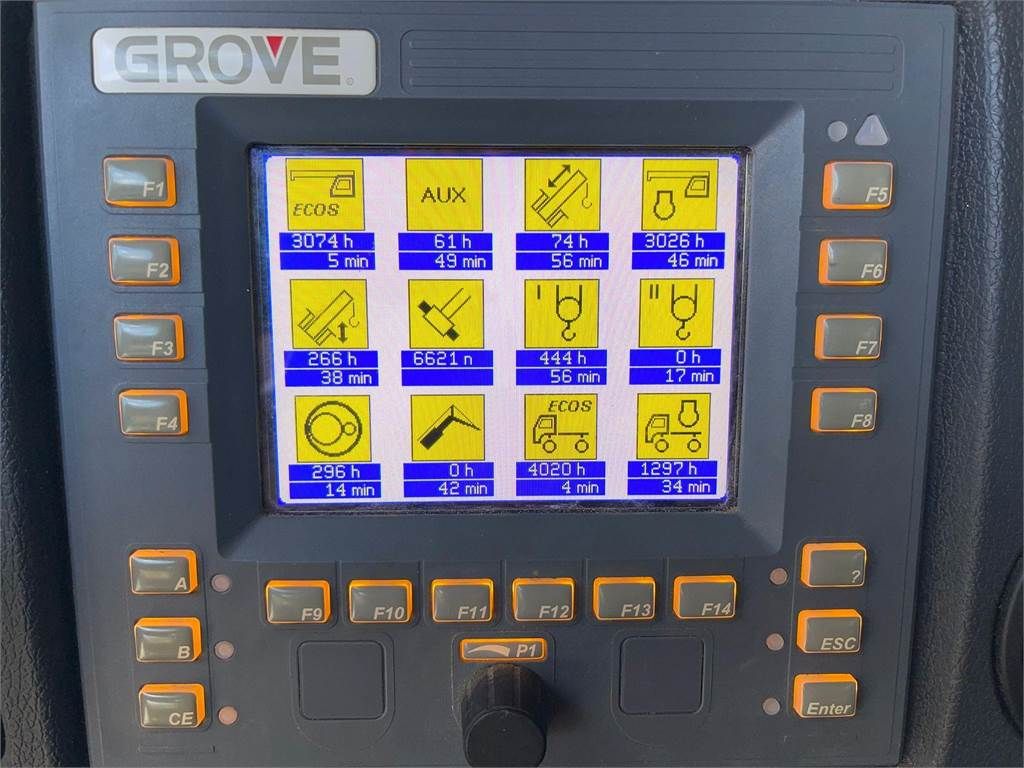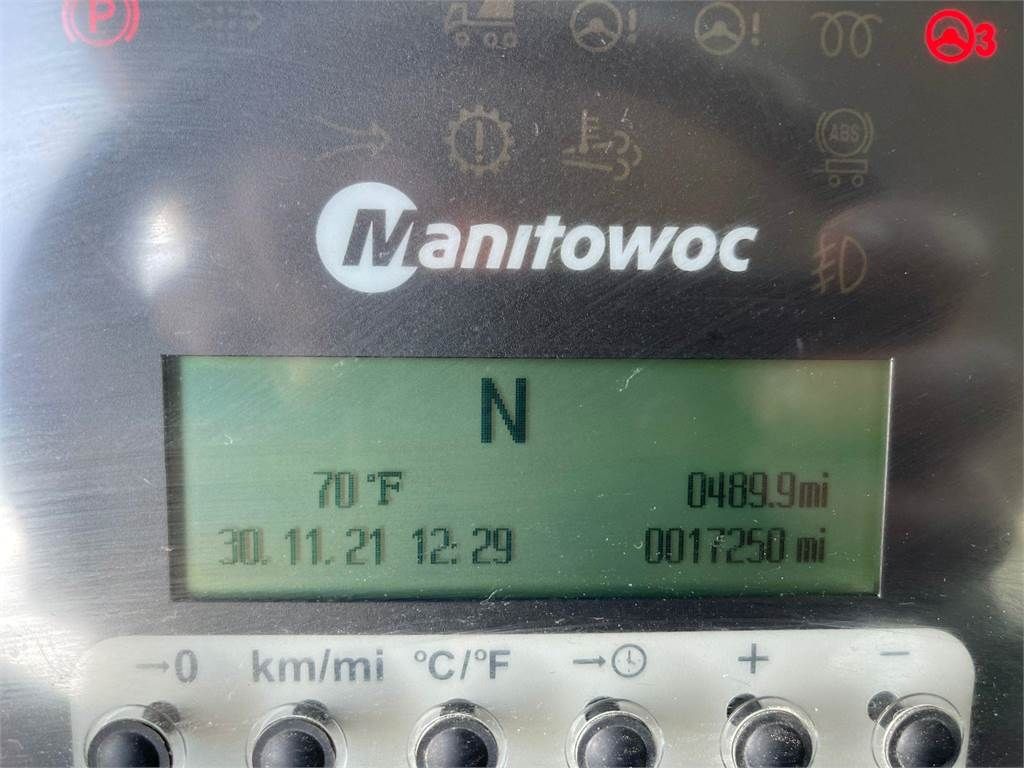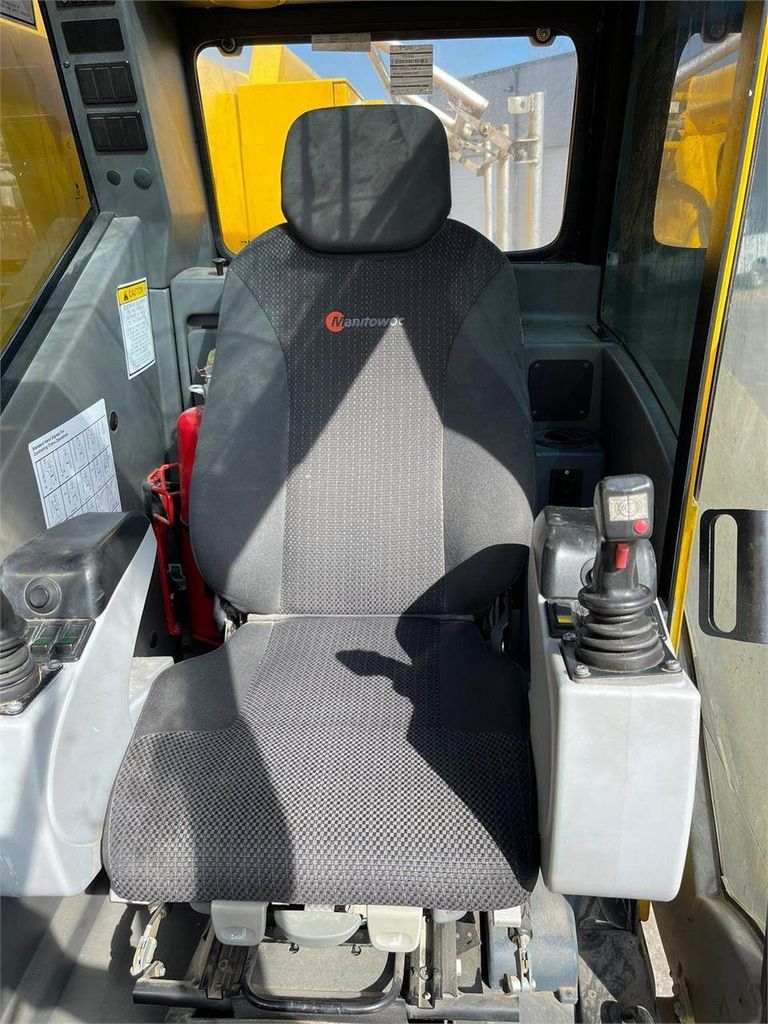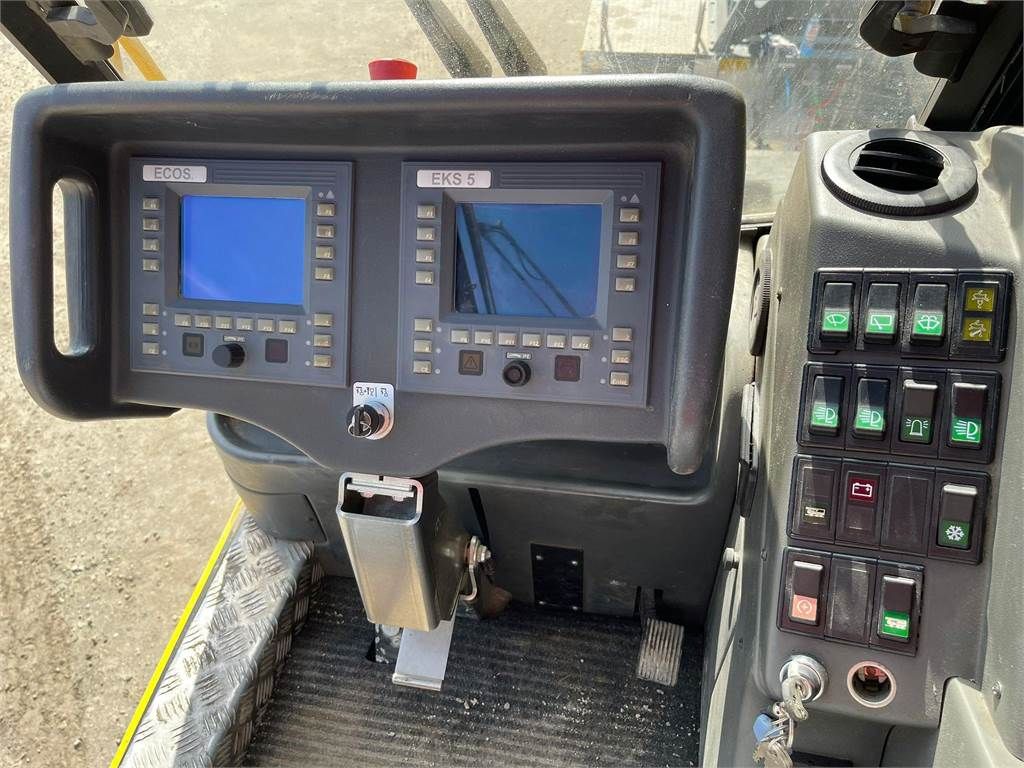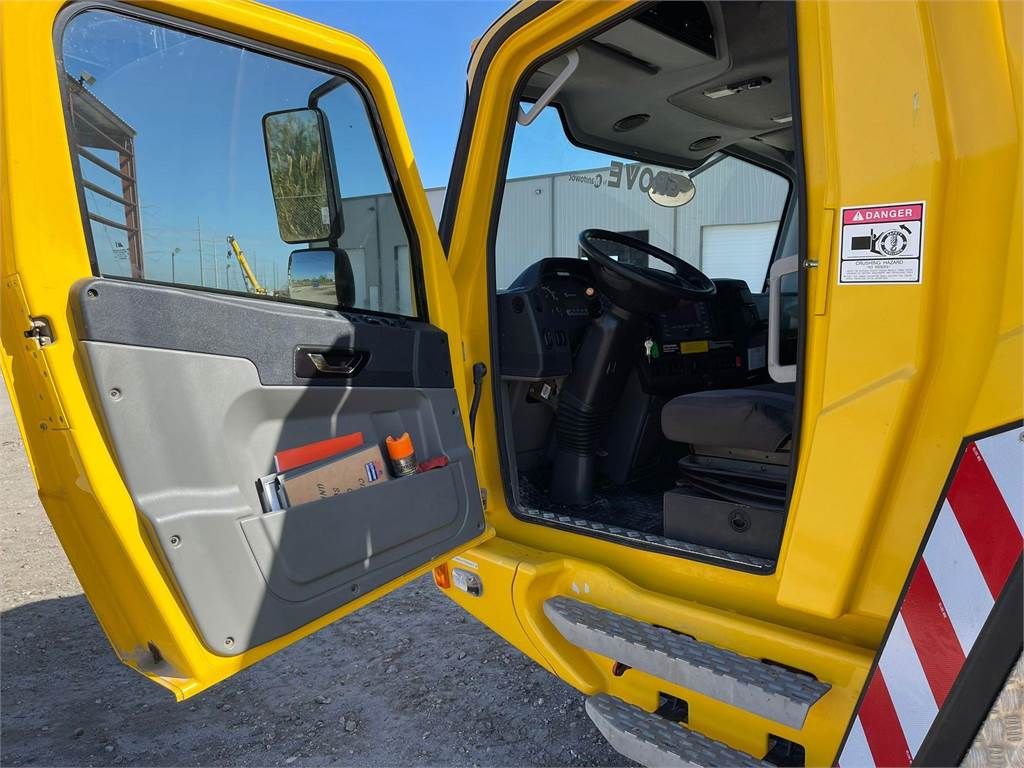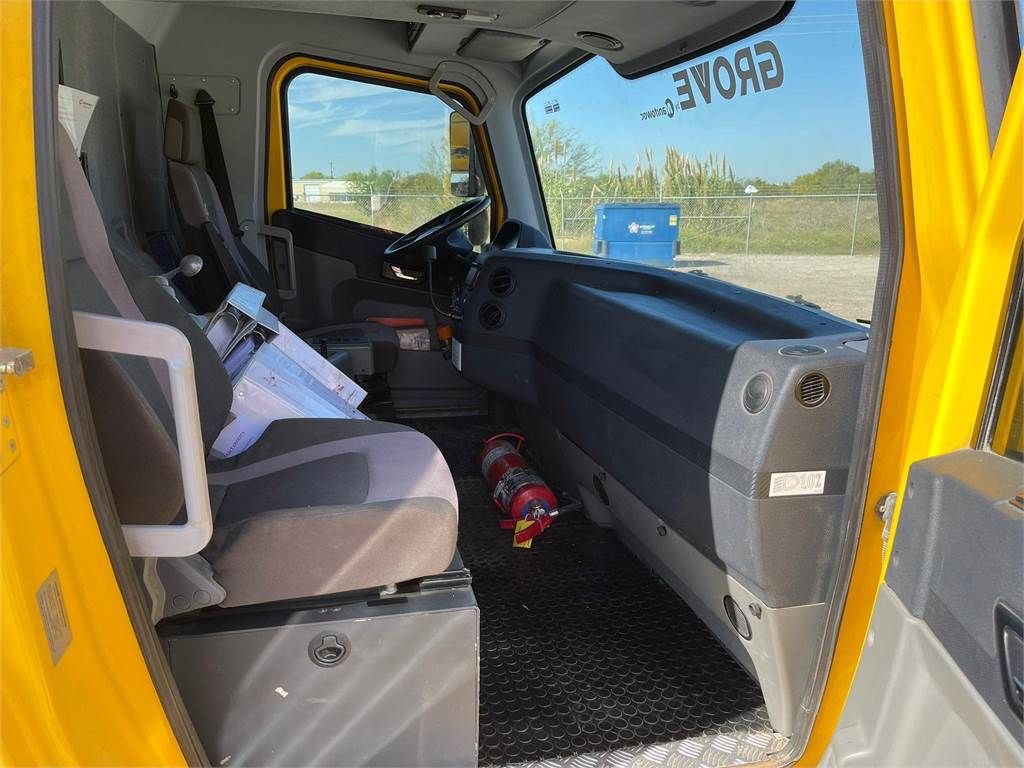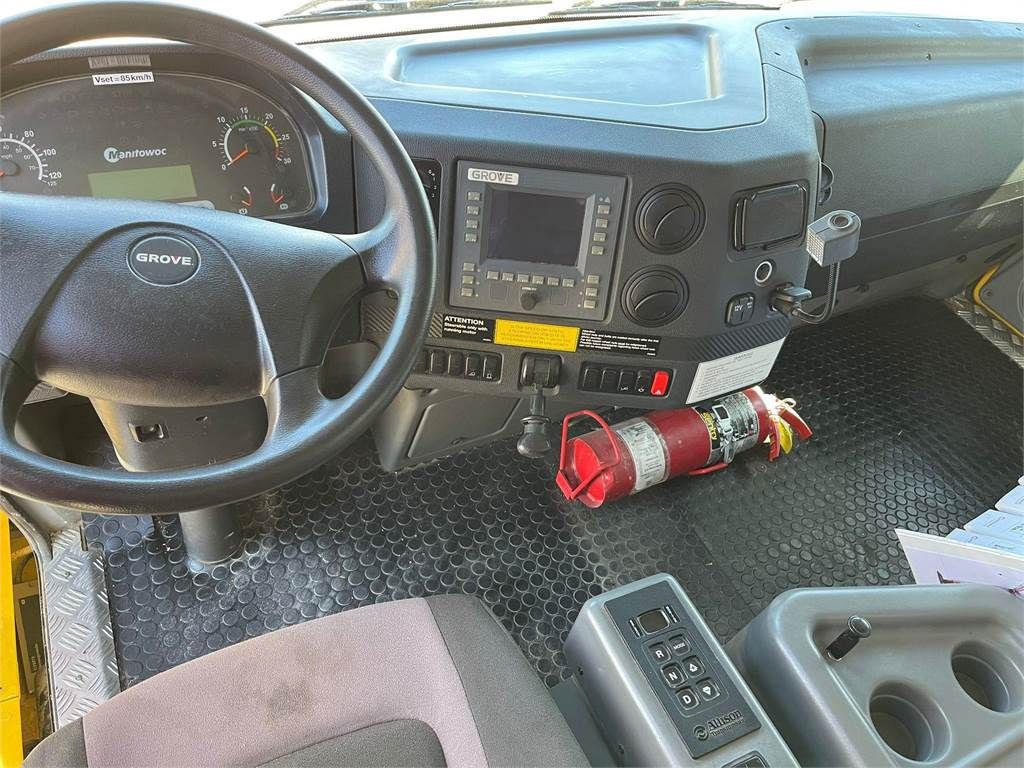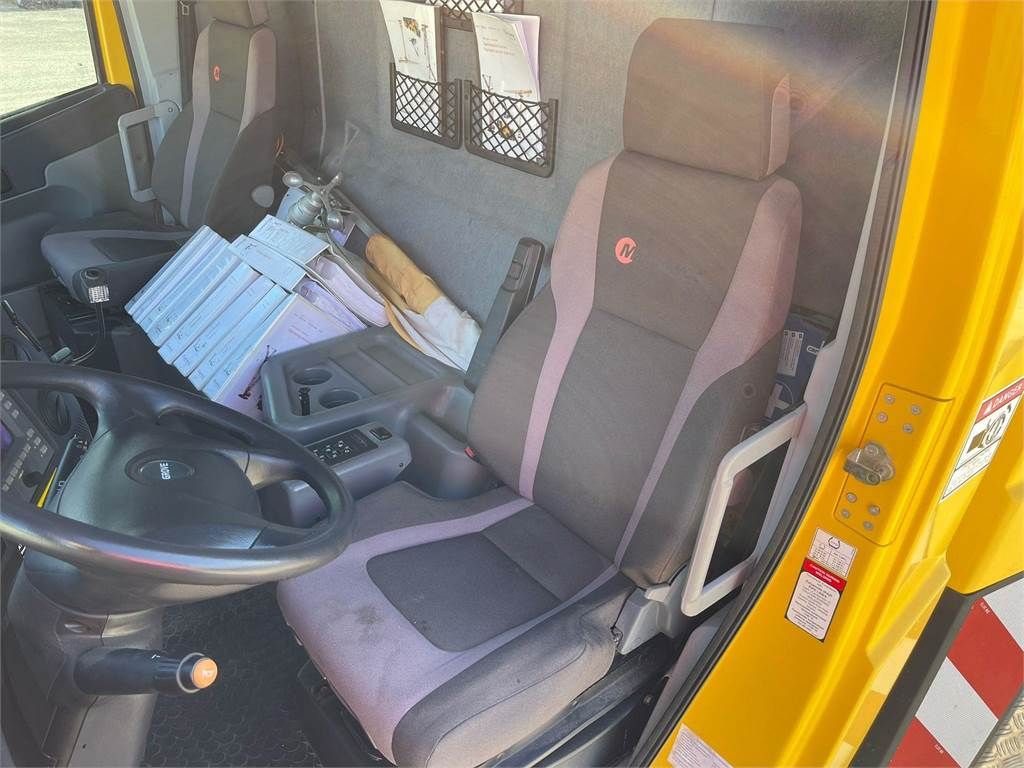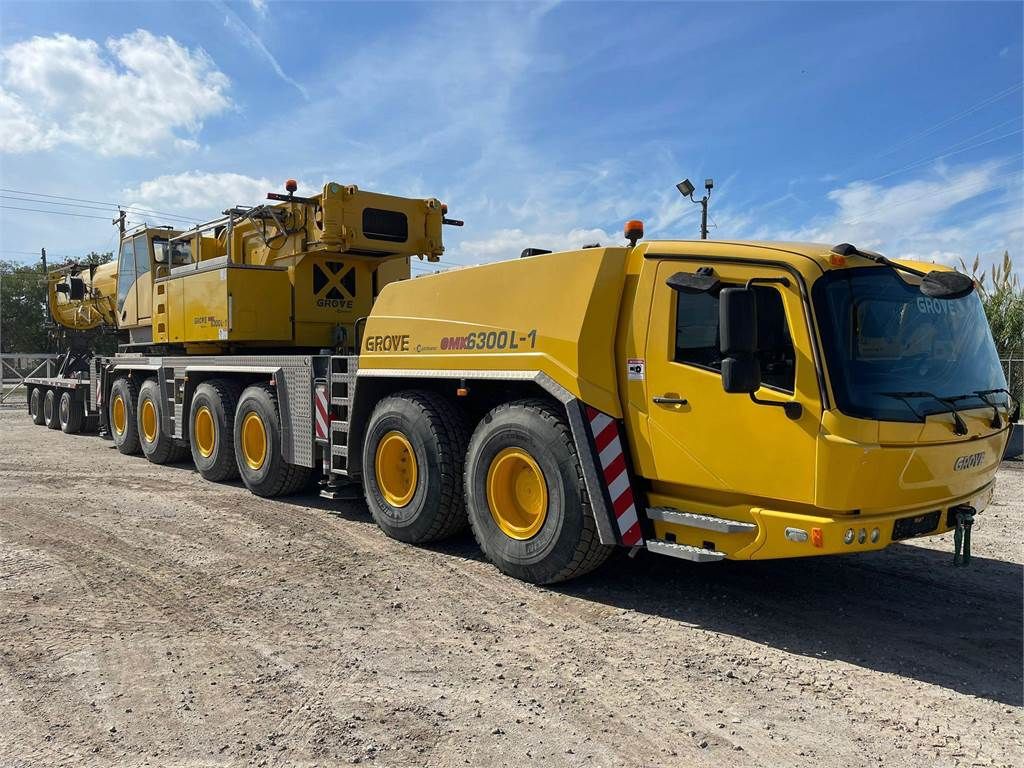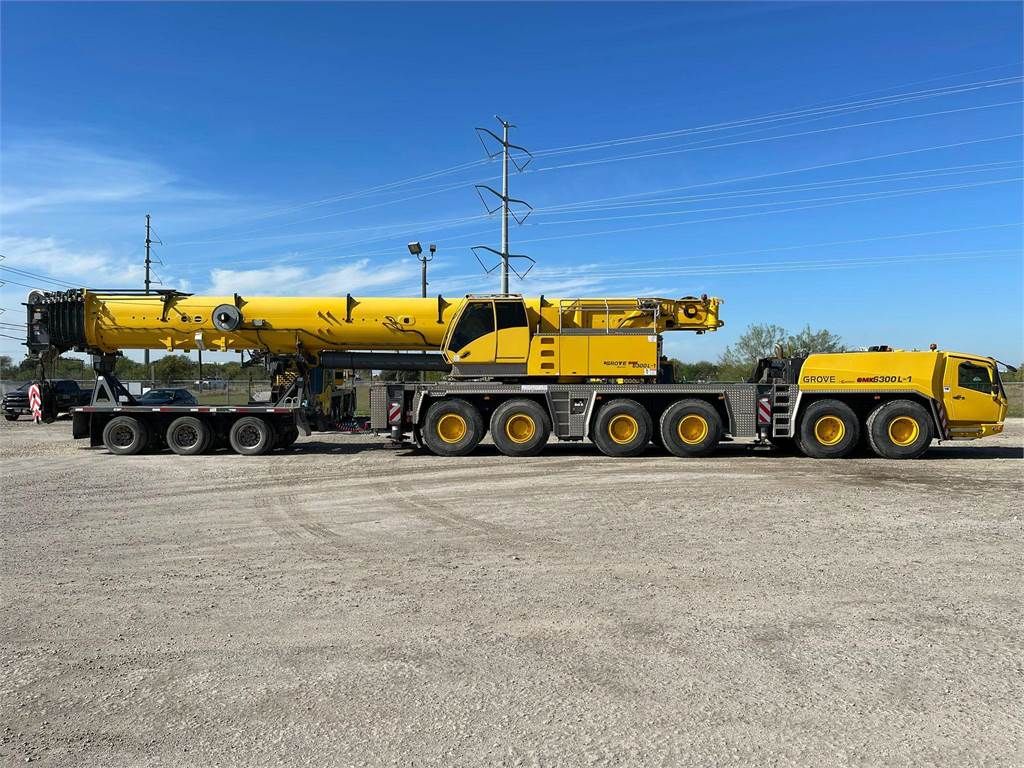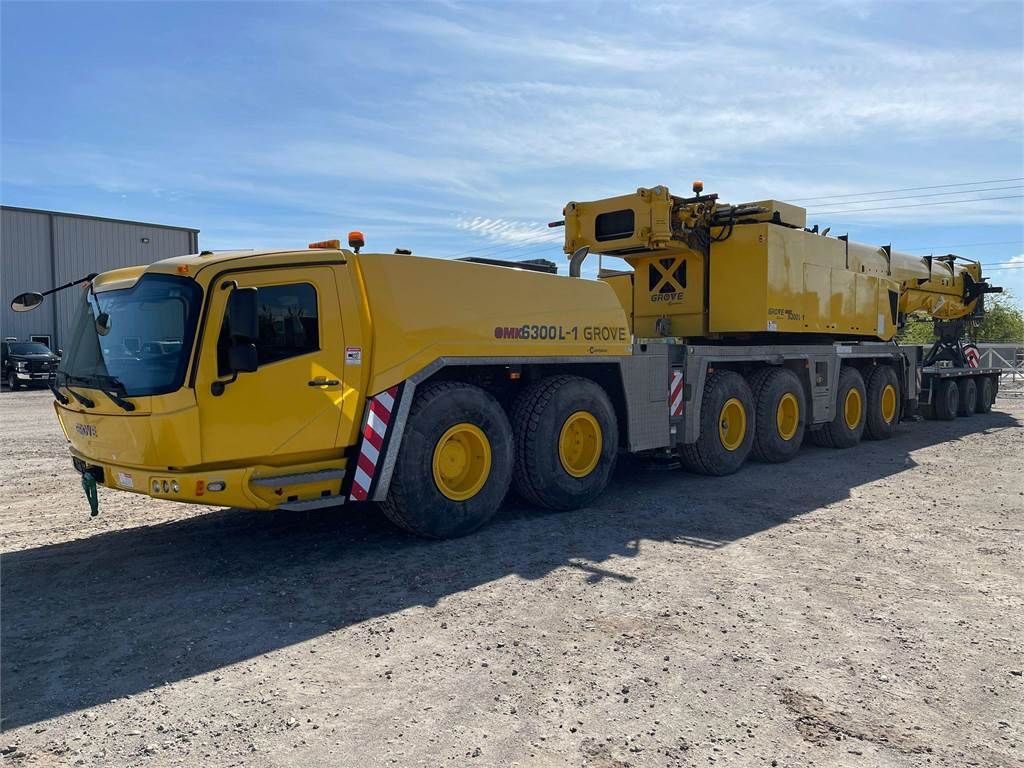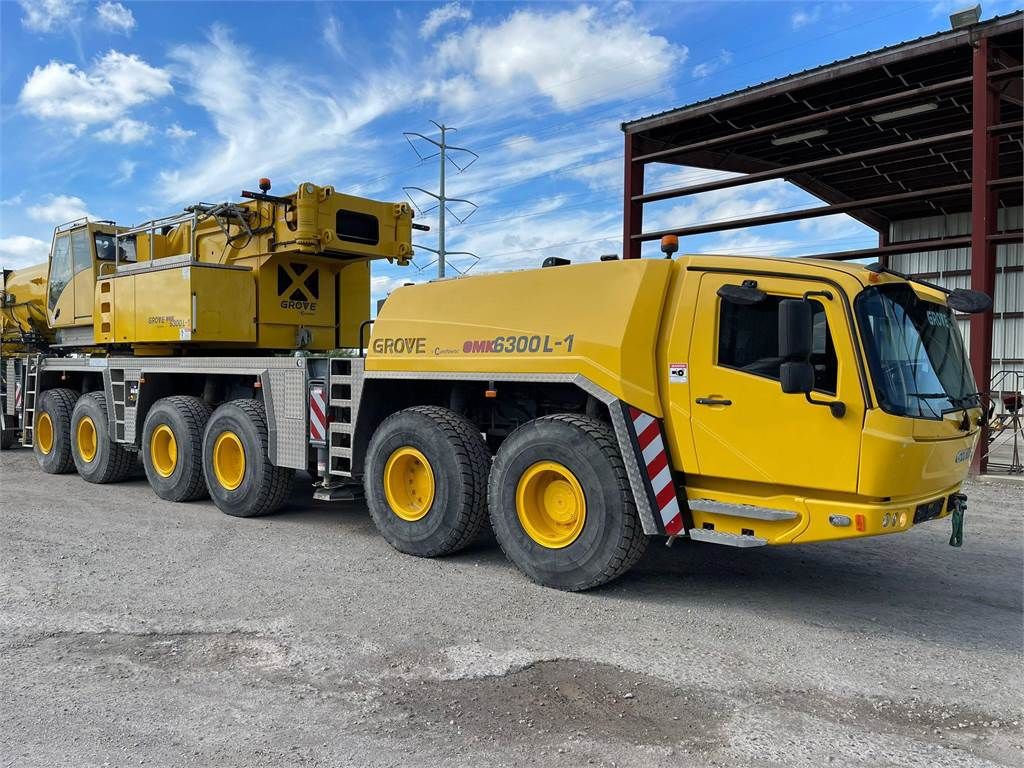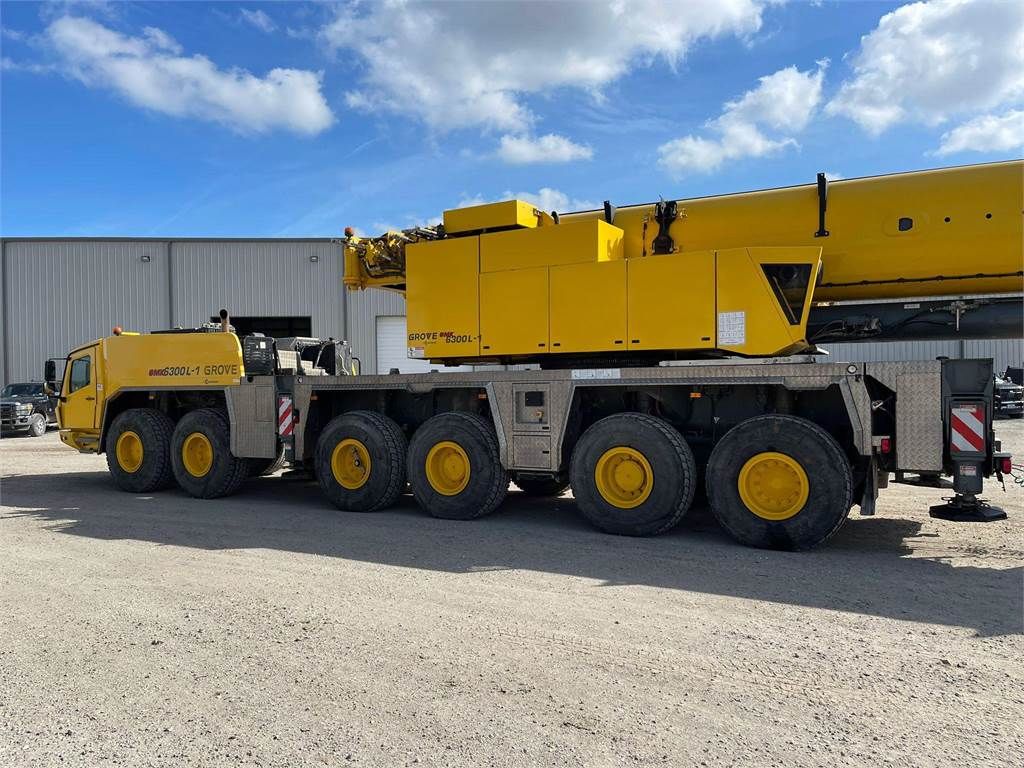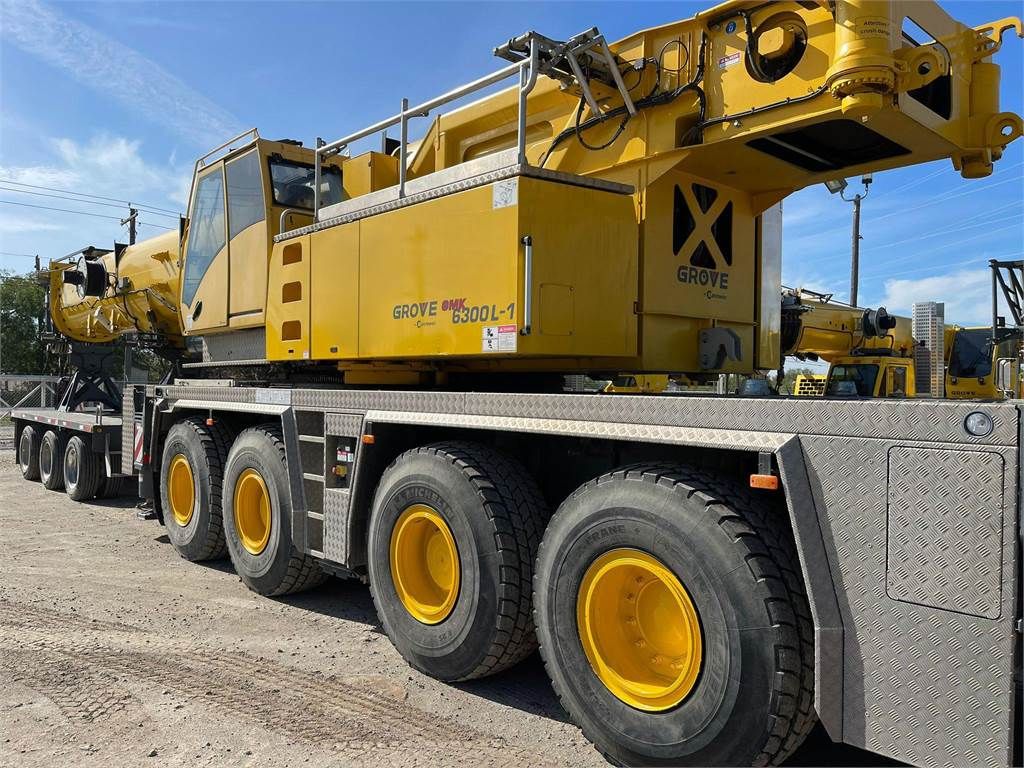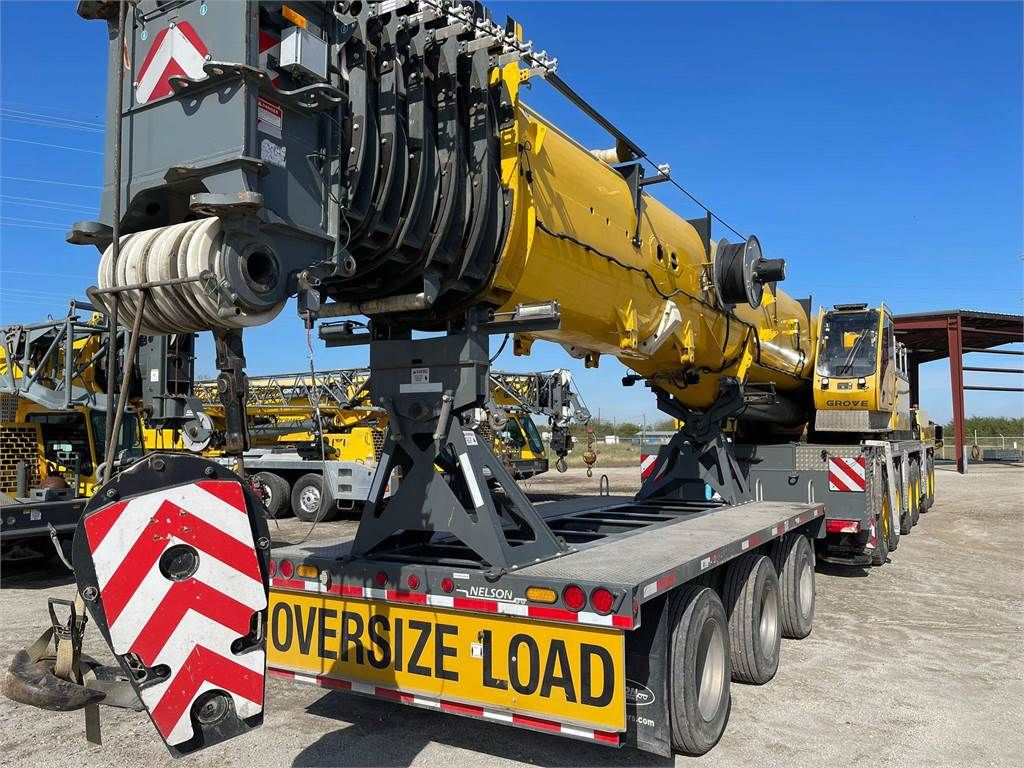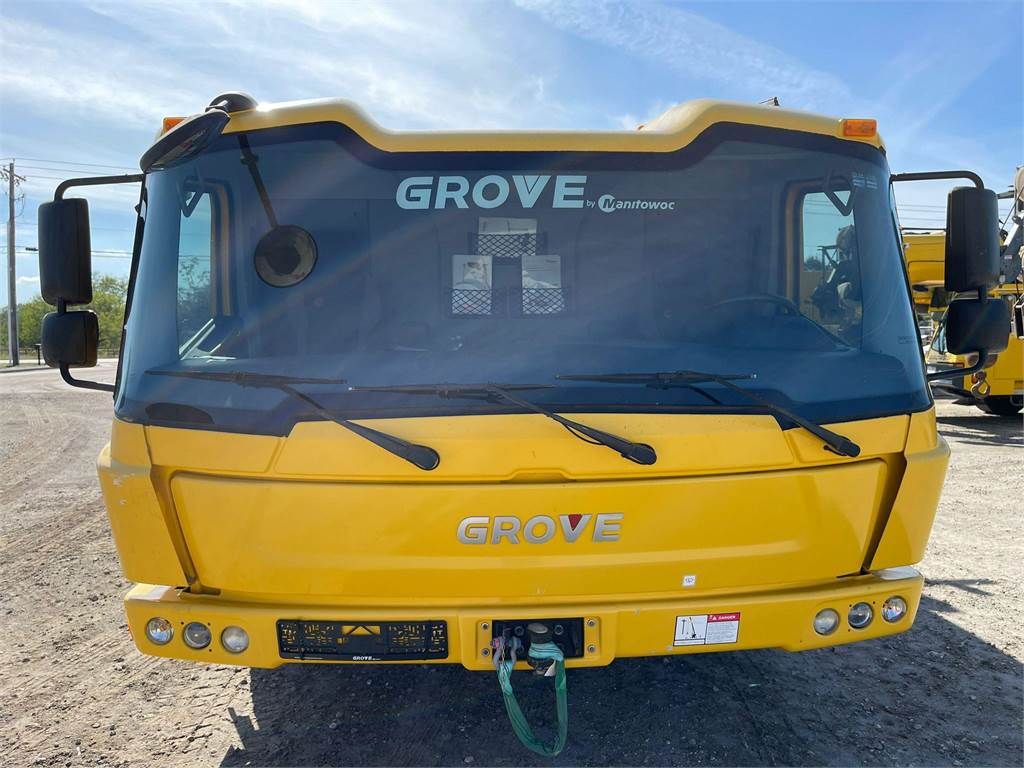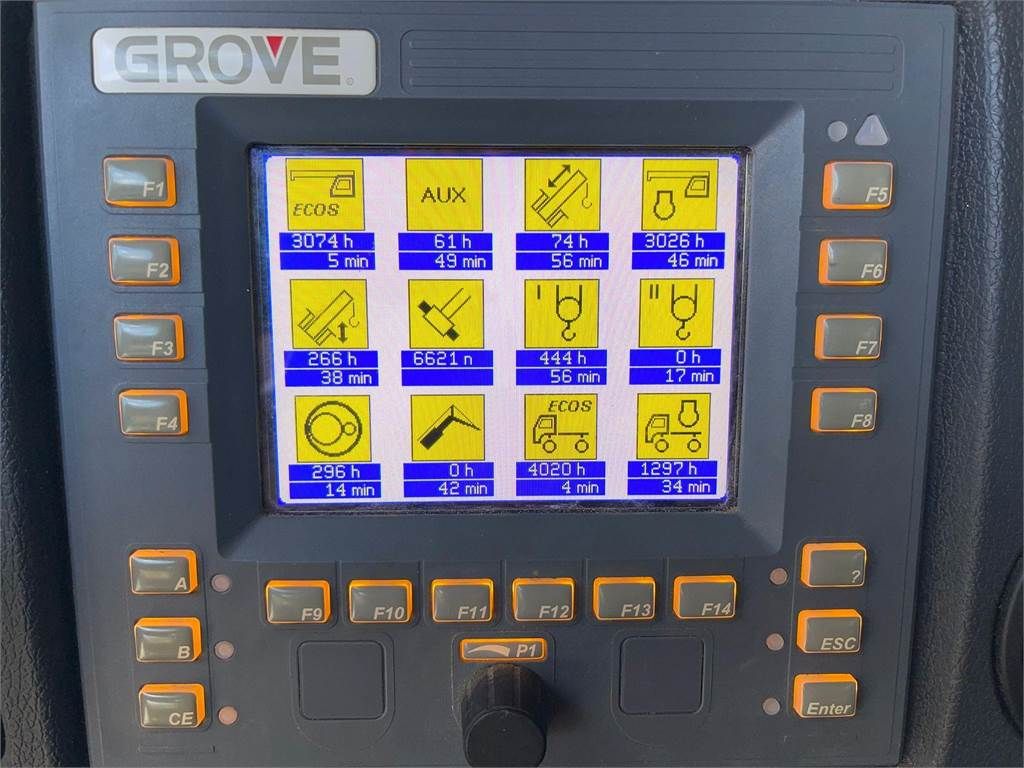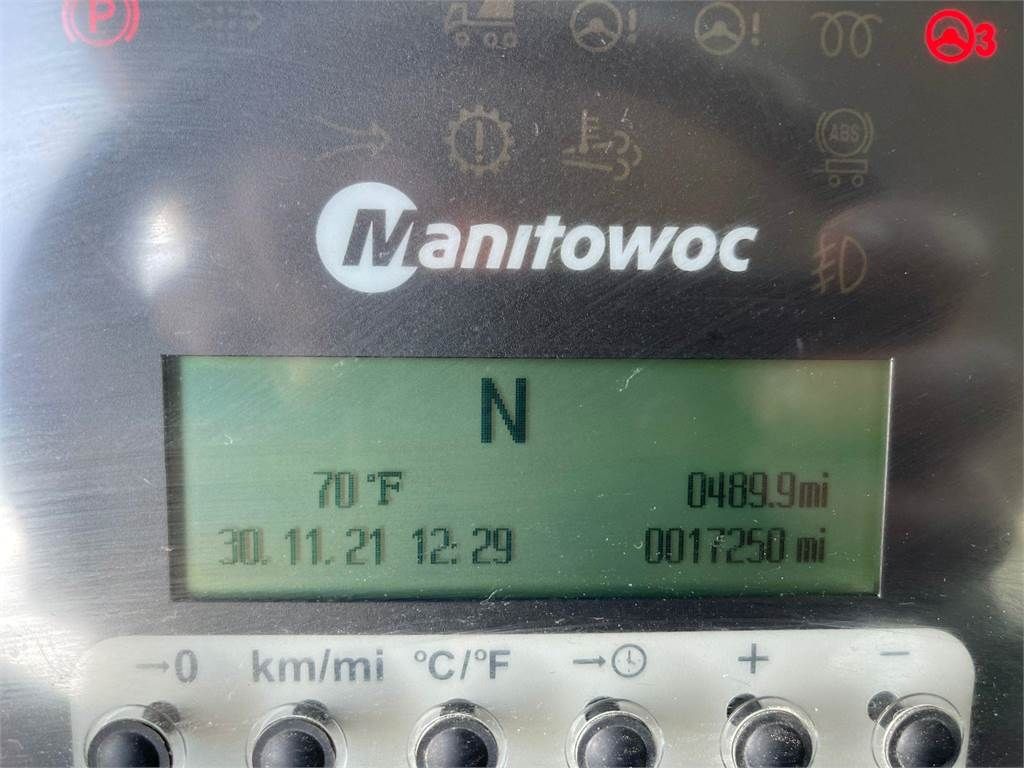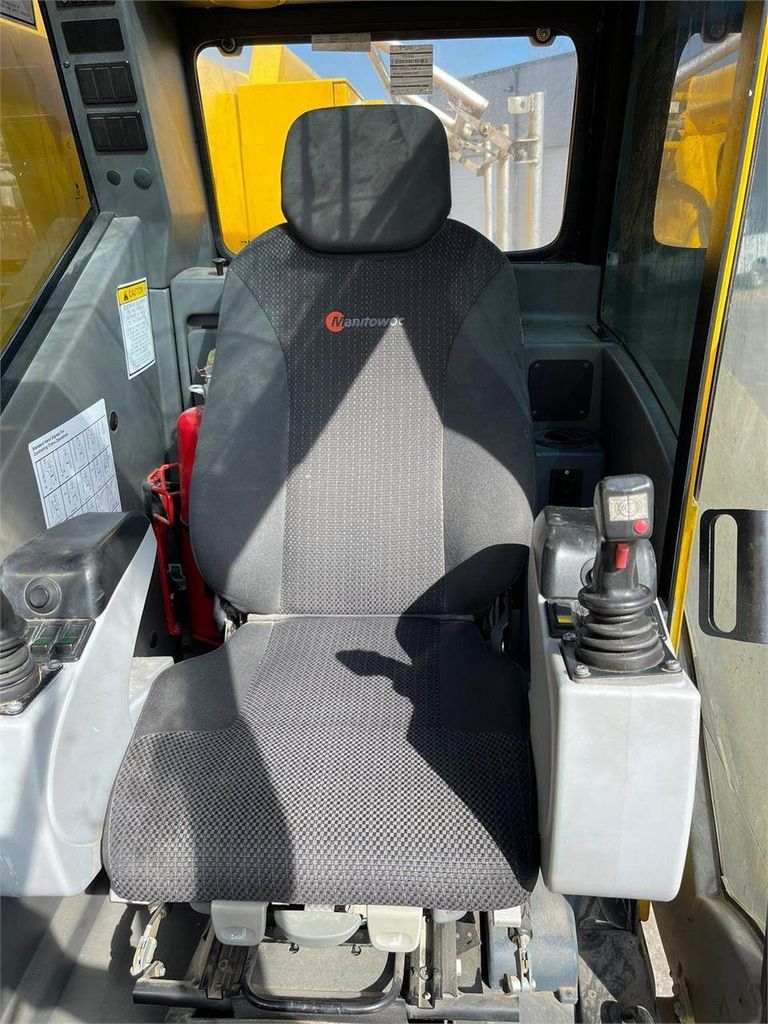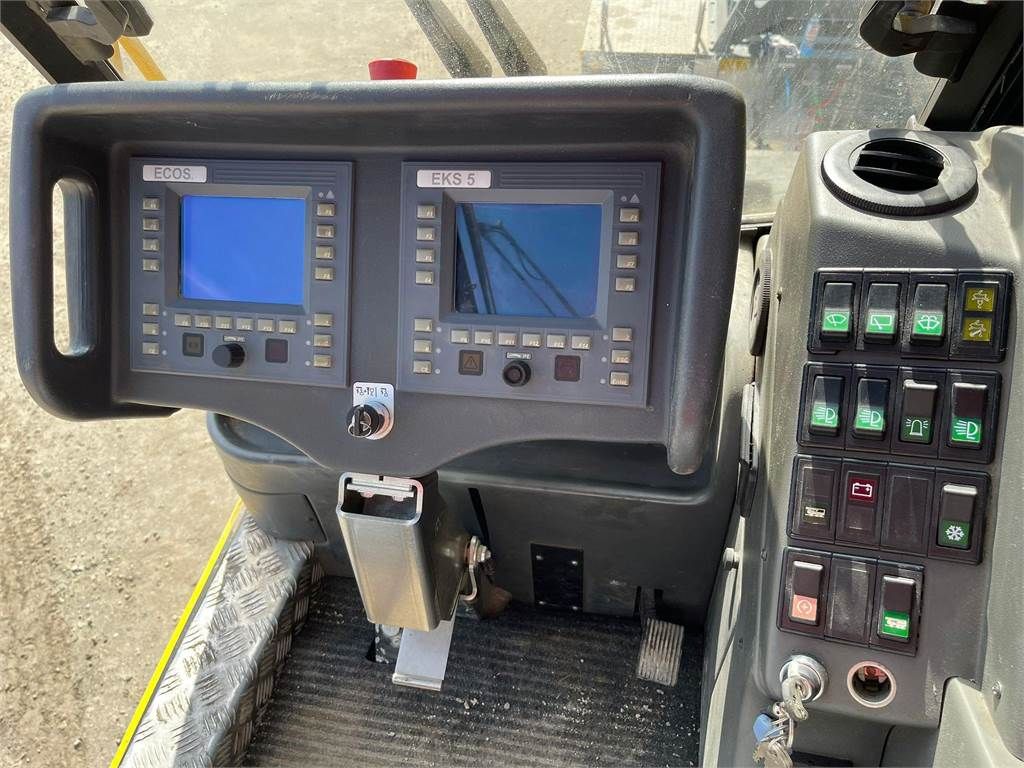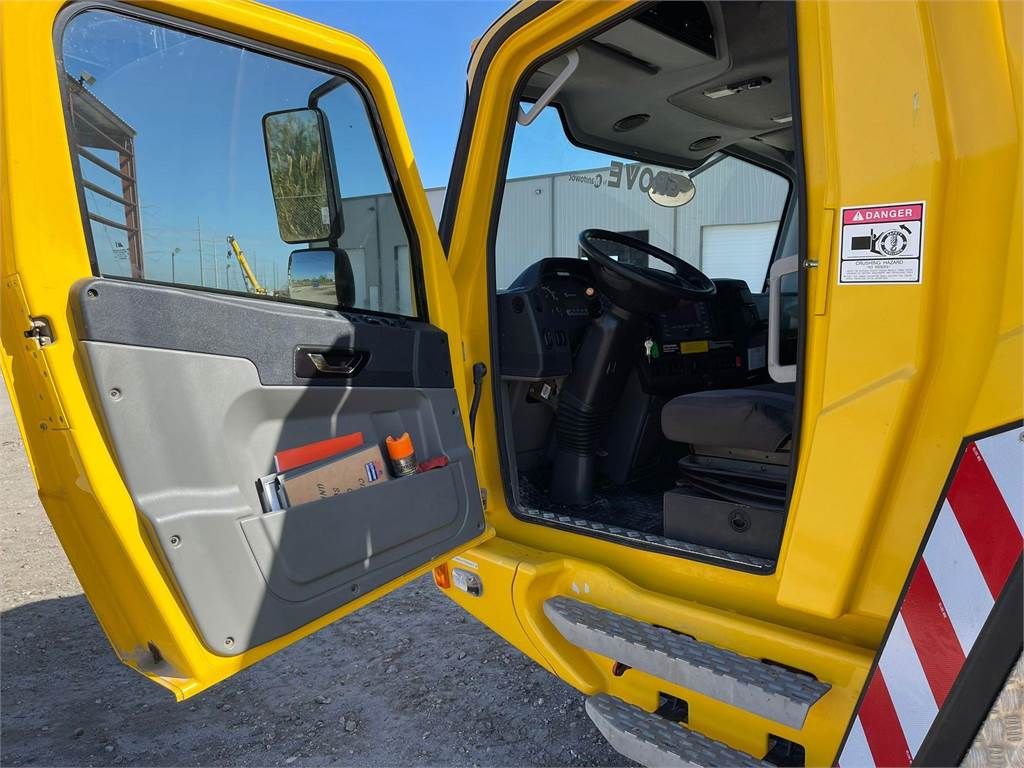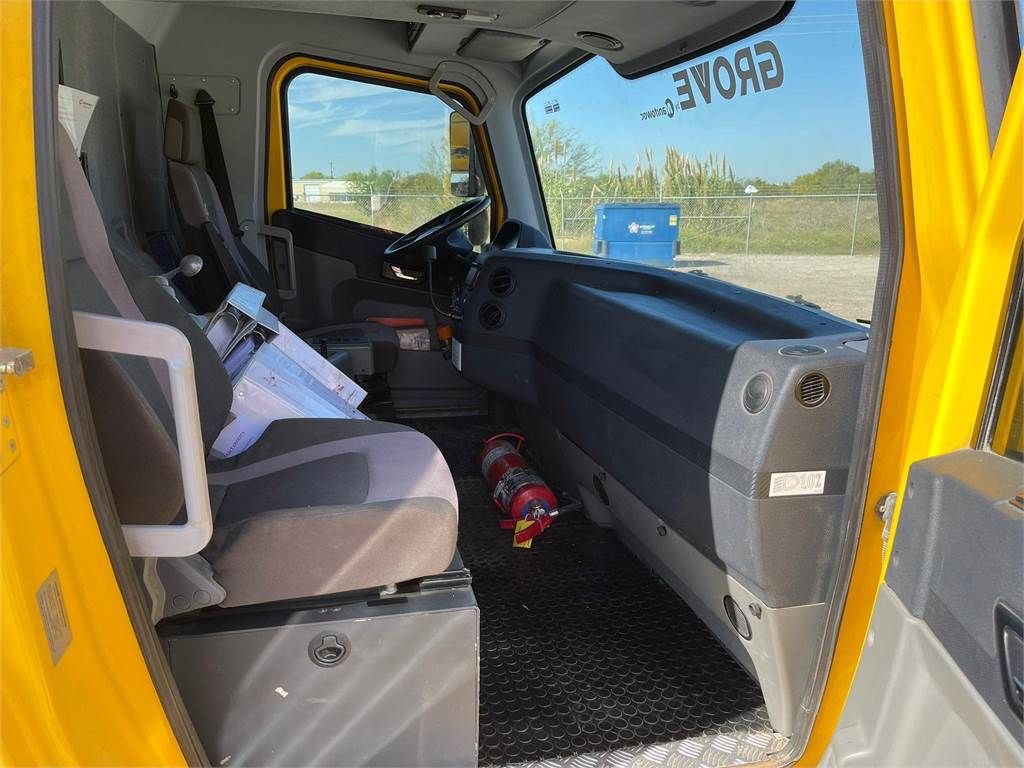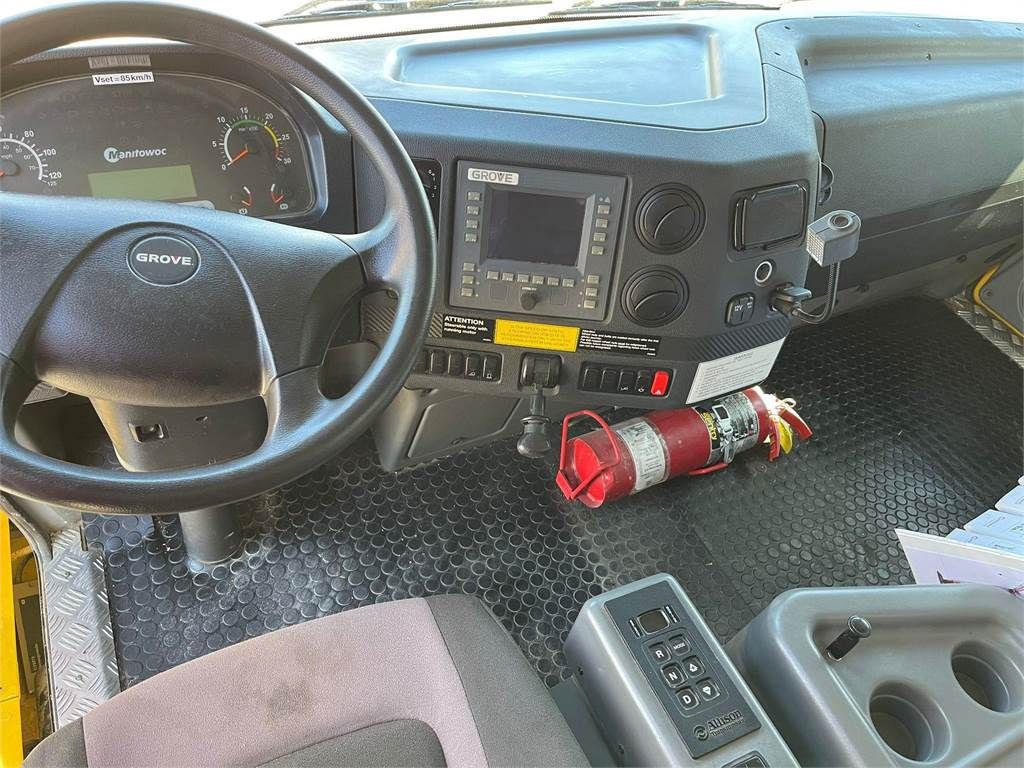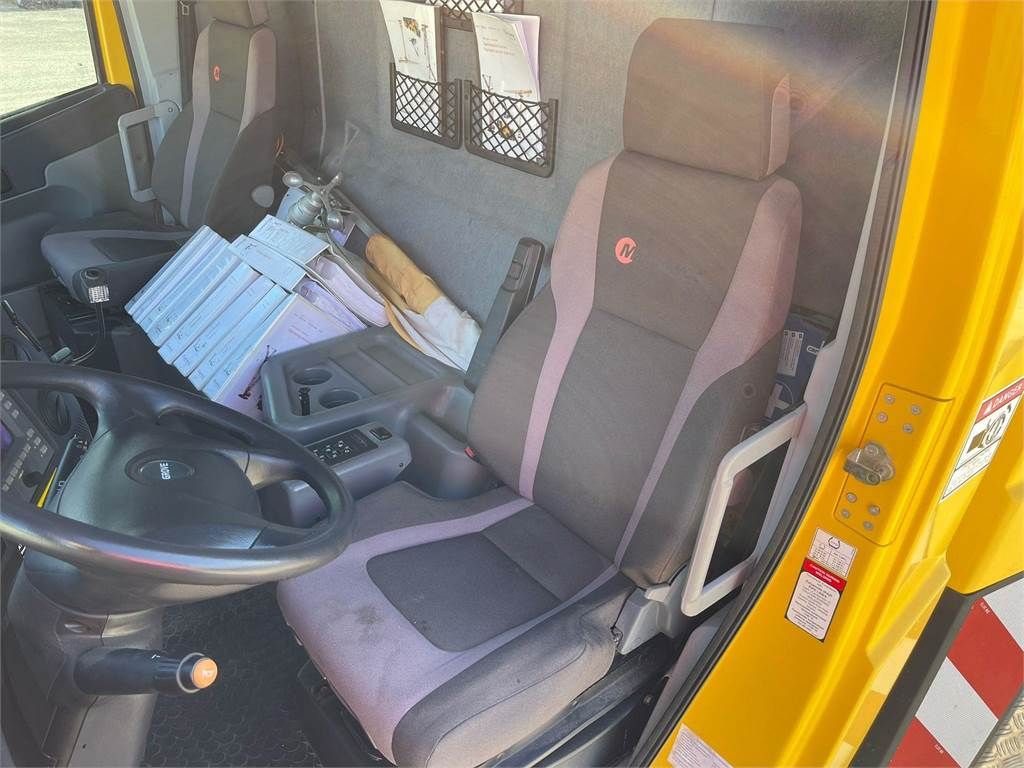 Descripción de la publicación
2018 GROVE GMK-6300L-1 (6350L-1)
350 US Ton All Terrain Crane
Fully Optioned U.S. Spec Crane
Main Boom: 262' Main Boom (80 Meters)
Jib: 70' Swing Away with HYDRAULIC Offset Option
Plus Additional Inserts for a total of 121' Jib
Two Winches, 20.5R 25 Tires
Meter Readings:
Crane/Upper: 3,026 Hours
Carrier/Lower: 1,297 Hours
Odometer: 17,250 Miles
Mercedes Tier 4 FINAL Diesel Engines with Allison Transmission.
Hoist Camera, Boom Float Kit,
Boom Removal Kit,
Removable Rear Outrigger Box
Hydraulic Quick Disconnect for All Outriggers,
Nelson Tri axle Boom Dolly is Available-Optional.
Detailed list of options and description below.
Prompt delivery to anywhere in USA is available.
We finance and trade ins are accepted.
Located in Texas.
INCLUDED OPTIONS & STANDARD EQUIPMENT AS FOLLOWS:
BOOM: 51 ft to 262 ft (15.5m to 80.0m) 7-section MEGAFORM boom with "TWINLOCK" boom pinning system. Nine sheave boom nose. Auxiliary single sheave boom nose. Boom Removal kit.
JIB WITH BOOM EXTENSIONS: 121 ft. (37m) offsettable jib -consisting of 69' (21.0m) bi-fold Swingaway and 2 x 26 ft. (8m) intermediate sections. Bi-fold swingaway HYDRAULICALLY offset from 5° to 40°
BOOM ELEVATION: One hydraulic single acting cylinder (-1.5° to 82°) with integral holding valve.
LOAD MOMENT SYSTEM ("LMI"): EKS 5 load moment indicator
OPERATORS CAB: Full vision aluminum cab, hydraulically tiltable to 20° mounted on the left side of the turntable, safety glass throughout, hinged front window with wiper, sliding door and window, sunvisor and window shade, skylight window with wiper, engine dependent hot water heater, fan and defroster nozzles, adjustable seat, headrest and armrest mounted dual axis crane control joysticks, full instrumentation panel with ECOS crane engine controls. 2 spotlights on front of cabin,stereo radio/ CD player, Air Conditioning.
SWING: 360° continuous rotation, 3 slewing gears with axial piston motors, planetary reduction gear, service and holding brake. Mechanical lock infinitely variable speed 0-1.7 rpm. Mechanical lock from outside of the cabin, 0° and 180°.
COUNTERWEIGHT: 92.5t (203,900 LBS) Counterweight with Hydraulic Removal System consisting of 120,152 lbs (52.5 t) 6 sections weighing approx.: 15,432 lb baseplate (7t), 5 x 20,944 lb slabs (9.5 t) Additional 83,776 lb (38 t) counterweight consisting of 2 x 19,842 lb (9.5 t) and 2 x 22,046 lb (10 t) removable wing weights. Maximum roadable counterweight: (16.5 t)
SUPERSTRUCTURE ENGINE: Mercedes Benz OM936LA, six cylinder, turbo charged diesel engine 210kW - Tier 4 FINAL Fuel tank capacity: 79 US gallons (300 litres).
HYDRAULIC SYSTEM: 2 separate circuits, 1 axial piston variable displacement pump (load sensing); with electronic power limiting control and 1 double gear pump for slewing. Thermostatically controlled oil cooler. Tank capacity 317 US gallons (1200 liters).
MAIN HOIST: Axial piston motor with planetary reduction gear and automatic multiple disc brake. additional boom nose idler sheave. Hoist camera incl. working lights. Drum rotation indicator and WIRE ROPE: 1148 ft (350m) of 22mm diameter.
SAFETY SYSTEMS: Hoist and lowering limit switch, check valves on load bearing cylinders, pressure relief valves, wind speed indicator and electronic leveling device. LMB status display, two strobe lights on carrier cabin.
OUTRIGGERS: Four two stage hydraulic telescoping beams with vertical cylinders and Ø 27.6" nylatron outrigger pads. Independent horizontal and vertical operation controlled from each side of carrier. Electronic level indicator. Outrigger pad load indicator with read out on carrier and superstructure, working lights for each outrigger beam and hydraulic disconnects for all outrigger beams.
CARRIER ENGINE: Mercedes Benz OM473LA, six cylinder, 430 kW (585 hp) turbo charged diesel engine - Tier 4 FINAL
TRANSMISSION: ALLISON 4500SP, 6 speed forward plus 1 reverse, automatic transmission with torque converter. 2 speed transfer case.
SUSPENSION: Megatrak all wheel independent hydropneumatic suspension, hydraulic lockout and automatic leveling system controlled via ECOS and outrigger control boxes. Automatic interval-controlled central lubrication of struts and steering lever journals. Suspension pressure monitoring.
BRAKES: Dual line full air on all wheels, conforming to EC regulations. Pneumatically operated spring-loaded emergency/parking brake on axles 2, 4, 5 and 6. Exhaust brake and constant throttle engine brake.
TIRES: 385/95 R25 (14.00 R25) on/off highway radials (steel rims).
LIGHTS: 24V system. Full lighting package (includes: head, rear, brake, rear fog, reverse, hazard, directional indicators and reflectors) conforming to EC regulations. Halogen spotlight and two rotating beacons.
CHASSIS CAB: Composite designed aluminum and glass-fibre reinforced plastic, two-man left hand drive with fully adjustable driver seat with pneumatic suspension, passenger seat, and three-point seat belts. Safety glass windows, laminated front windscreen with wipers and washers, engine dependent hot water heater with defroster, heated rear view mirrors, tachograph, odometer, full warning instrumentation and travel controls. Stereo radio with CD player and traffic information decoder. Fire extinguisher 5kg mounted inside the cabin. Air conditioning. Two strobe lights on carrier cabin. 12V plug and reversing camera system.
MISCELLANEOUS: Access steps, maintenance tool kit, first aid kit, and tire inflation kit.
ADDITIONAL OPTIONS:
* 2 worklights - mounted on top of boom base section (controlled from superstructure cab)
* Boom mounted aircraft warning light
* Auxiliary boom nose
* Trailing boom float kit
* Nelson 3-Axle Boom Dolly Available-Optional.
* Boom removal kit.
* Auxiliary hoist: Self rigging with counterweight, axial piston motor with planetary gear and automatic multiple disc brake. Drum rotation indicator, 330 m of 22mm wire rope. Including second upper head sheave on boom and fall protection system. Hoist camera and working light.
* Additional oil cooler for hydraulic system.
* 5 Sheave 137 USt hookblock with double hook and dead end.
* 3 Sheave 88 USt hookblock with double hook and dead end.
* 1 sheave 35 USt hookblock with double hook and dead end (32 tones hookblock capacity).
* Single line 13 USt headache ball
* Comfort seat with adjustable suspension, seat heating, pneumatically controlled lumber support and adjustable seating
* 20.5R25 (525/80 R25) Tires
* Hydraulic Retarder integrated in gear box.
* Outrigger length control.
* Steel outrigger pads in lieu of standard
* Engine independent diesel water cab heater which also serves as engine preheater incl. 24h timer.
* Hydraulic Disconnect for all outrigger beams
* Removable rear outrigger box.
* CraneSTAR asset management system software package
---
Ubicación
Texas, Texas, United States