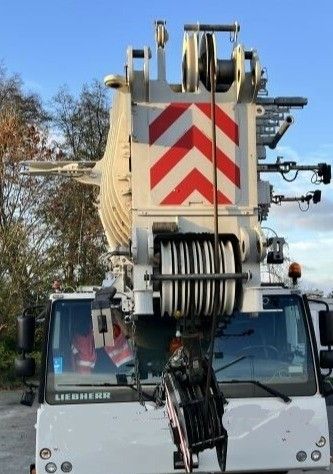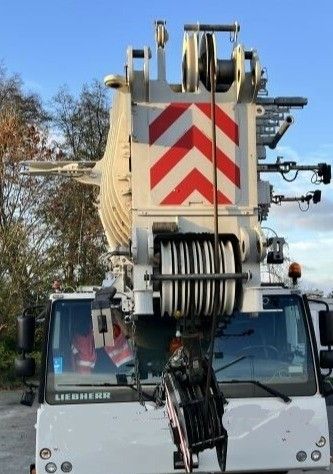 Descripción de la publicación
Status
For Sale
Manufacturer
Liebherr
Model
LTM 1350-6.1
Condition
Excellent
Year
2020
Ton (USt)
400.00
Lifting Capacity
800,000 lbs. (350,000 kg)
Main Boom Length
49' - 230' (14.9 - 70 m)
Jib Extension Length
20' - 138' (6 - 42 m)
Luffing Jib Length
39' - 256' (12 - 78 m)
Max. Tip Height
439' (139 m)
Max. Hook Radius
310' (96 m)
Maximum Counterweight
308,600 lbs. (140,000 kg)
Base Weight (GVW)
158,750 lbs. (72,008 kg)
Transmission Type
Automatic
Upper Superstructure Engine
Liebherr D934 A7 (245 HP/180 kW)
Lower Carrier Engine
Liebherr D9508 A7 (619 HP/455 kW)
Description
Lattice-type luffing jib 78 m Attachment parts for fixed mounting of the luffing Winch 2 (auxiliary winch or winch for control of the luffing jib) Additional counterweight 40 t (for total 140 t) Y-type guyed telescopic boom.Excenter with extension of the telescopic boom 3.5m, lattice-type jibs (VE) zur Traglaststeigerung an den Gitterspitzen Hookblock 125 t, 5 sheaves, double hook Hookblock 80 t, 3 sheaves, double hook Hookblock 36,2 t, 1 sheave, single hook Crane hook 12,2 t Runner 48 t (H), 2 sheaves Second boom head top sheave.
Drive 12 x 8 Eddy-current brake type TELMA VarioBase Air condition for carrier cabin Camera system for reverse drive with color monitor Detachable outrigger beam.
Air condition for crane cabin Working area limitation Remote diagnosis with GSM-module Second hoist limit switch at telescopic boom head Two working floodlights at pivot section Emergency operation of crane hydraulic LICCON Data Logger with evaluation softwar.
CRANE WILL BE DELIEVERED WITH BOOM FLOAT KIT/NEW 20.5 TIRES AND RIMS ALL AMERCANIZED.
THE PRICE $2,750,000 USD IS DELIVERED PRICE TO ANY US PORT. WE OFFER FINANCING.
Contacts: Manzar Shah tel: 617-419-7147, email: info@sascranes.com
---
Ubicación
United States