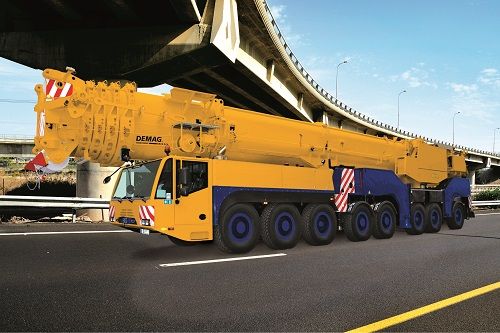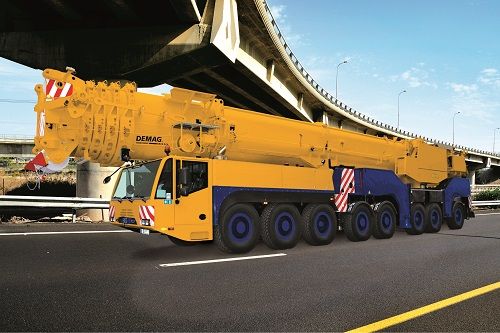 Publication description
Available for North American market with RPO.
Designed for Maximum Lifting Capacity
The most compact 8-axle crane of its class
With its AC 500-8, Demag has once again proved just how much power and performance can be packed into a small space. The AC 500-8, like many other Demag cranes, is the most compact crane of its lifting capacity class: A carrier length of only 17.1 meters means that no other 8-axle unit is more compact.
Capacity Class
600 USt / 500 t
Max Main Boom Length
183.7 ft / 56 m
Max System Length
478.3 ft / 145.8 m
Axles
8 / 8
A long reach
Even though it has a compact design, the Demag AC 500-8 has an enormous reach: With a luffing jib, it reaches an impressive maximum system length of 145.8 meters, which it combines with enormous lifting power thanks to a number of engineering advantages.
Enhanced lifting capacity with IC-1 Plus
Thanks to its innovative IC-1 Plus control system, the Demag AC 500-8 can even handle lifts that are normally the exclusive job of larger cranes. The system is designed to calculate the crane's lifting capacity for every position of the boom subject to the slewing angle of the superstructure, in real time. This means that the lifting capacity for a specific radius is no longer limited to the lowest value for a pre-calculated 360° lifting capacity, as used to be the case. Instead, the crane can always take full advantage of the maximum available lifting capacity. This advantage is particularly useful when it comes to lifts requiring an asymmetric outrigger setup.
Powerful in all lifting capacity ranges
The Demag AC 500-8 is a true powerhouse that can deliver enormous lifting power every day regardless of the lifting configuration it uses. There are two engineering details that are responsible for this: the extra strength provided by the Sideways Superlift system and the standard star-type outriggers, which reduce system deformation noticeably and accordingly provide for stability at higher lifting capacities.
---
Location
France